Last Thursday Art Opening @ The Goodfoot Pub & Lounge | Featuring Beth Myrick and Matthew Hopkins
From our sponsors: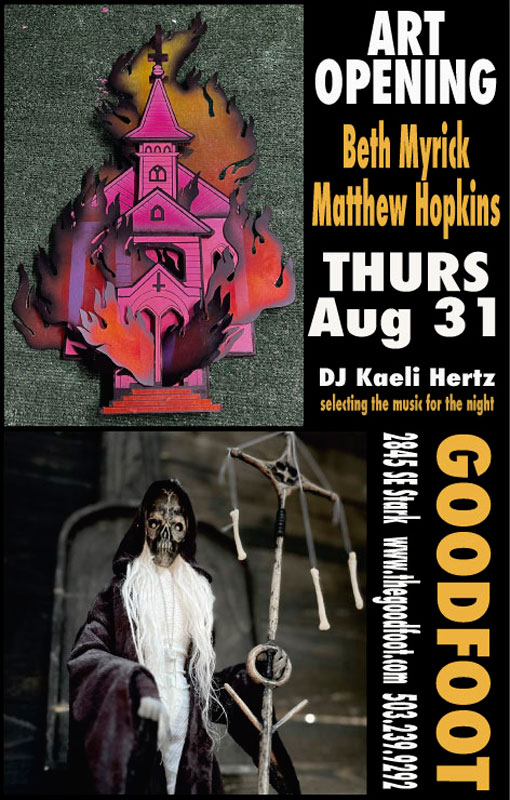 Last Thursday Art Show
August 31, 2023
5pm – 2am | Free | 21+
More info: Facebook
The Goodfoot Pub & Lounge
2845 SE Stark St., Portland
The Goodfoot will have an art opening last Thurs Aug 31st the show will be up until Sept 24th. This months feature artists are Beth Myrick and Matthew Hopkins. Along with music selected by DJ Kaeli Hertz.
Beth Myrick
is a Portland based artist getting her spray paint roots in spreading positive messages throughout the city streets. (only getting arrested once!) she has since evolved to using power tools, multi media materials and legally purchased spray paint. She's been told she's a cross between Lydia from Beetlejuice and Lisa Frank. 
Matthew Hopkins
Matthew Hopkins is a multi-disciplinary artist whose talents have been seen on stage (Lil Naz X Lallapalooza 2023) and in film (Guillermo Del Toro's Pinocchio) and television (Portlandia).  Blending his passions for monsters, puppets, and magic, Matthew has created the world of Nightmerriment; an exploration of folklore, shadow, and human interplay with devils and spirits, harnessed into the art of dolls.  This exhibit can be categorized into three somewhat amorphous realms that often blur boundaries with one another:
 There are the lovable monsters whose grandest desires are to woo you into the indulgences of life.
 There are the Guardians who stand between the more fanciful and delighted creatures of Nightmerriment and those whose motives are less predictable.
 The most esoteric and formidable 'monsters' live furthest from our world, somewhere near the Faerie Lands. They can only be contacted by a most skilled explorer, unless they want to contact to you!