Last Thursday Art Opening @ The Goodfoot Pub & Lounge | Featuring KSRA, Nicholas Orr, They Drift, & Tony Morgan
From our sponsors: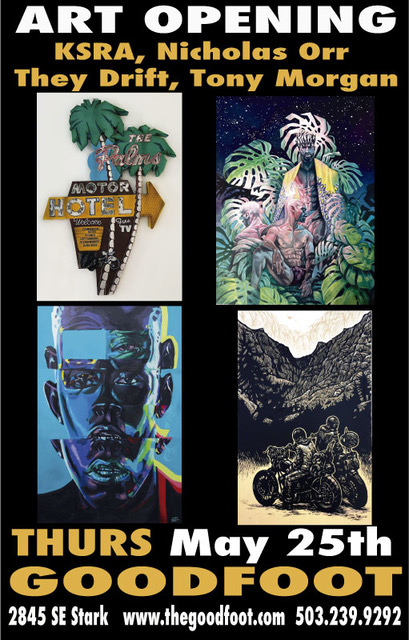 Last Thursday Art Show
May 25, 2023
5pm – 2am | Free | 21+
More info: Facebook
The Goodfoot
2845 SE Stark St., Portland
The Goodfoot will have an art opening last Thurs May 25th the show will be up until June 25th. This month's feature artists are KSRA, Nicholas Orr, They Drift, Tony Morgan.
KSRA
Whether on a wall or in her studio Ksra marks landscapes with her presence.
As a graffiti artist, Ksra has been creating work daily for 20 years.
Attracted to these landmarks for their representation of liveliness once had, Ksra aims to document the vanishing craft of neon signs.
Nicholas Orr
(he/him) was raised in Jamaica and Florida. He graduating from college with a BFA in illustration in Detroit. He moved a few times after leaving Detroit and settled in Portland, Oregon in 2007 to continue his illustration career and get involved in the local comic book industry. In his richly figurative work, Nicholas focuses on making his viewer connect with his art on a emotional level. He create a mood, a feeling, a fantasy of what the world could be. With an emphasis on the communities of color. He hopes to work on projects that helps promote a broader change in our idea of what we see as different.
They Drift
is a visual artist known for blending the styles of street art and classic portraiture. Drawing inspiration from the vibrant and dynamic nature of graffiti, as well as the timeless elegance of the masters, They Drift's work is a unique expression of contemporary culture.
Tony Morgan
builds motorcycles, rides motorcycles, destroys motorcycles, writes about motorcycles, and makes art about motorcycles. His art and stories have been featured in Gnarly Magazine, Show Class Magazine, 13 1//2 Magazine (Netherlands), and The Ton Magazine. In 2022 his artwork was featured as part of Michael Lichter's "Motorcycles As Art" show at Sturgis Buffalo Chip. His work can be found in private collections around the world. "I draw and paint my own experiences, distilling the event, or series of events, into a single image. While the literal aspect is an important part of it, I am equally concerned with the feeling the artwork generates. When you look at one of my prints or paintings, I want you to feel what I felt, to remember how you felt when you had a similar experience, or even to feel the anticipation of an event you have yet to encounter. For me, making art is about communication. I am speaking to the spirit, to freedom, to danger, and to the majesty of nature and the thrill of living."