Art Opening @ The Goodfoot Pub & Lounge | Featuring andyvanoverberghe, Abby Austin, Rob Iggulden
From our sponsors: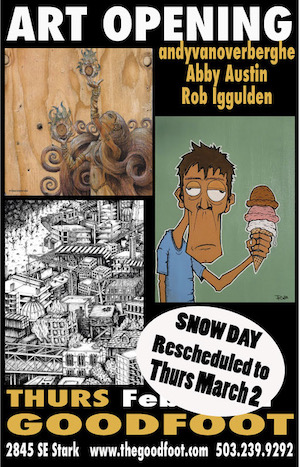 Art Show
March 2, 2023
5pm – 2am | Free | 21+
More info: Facebook
The Goodfoot
2845 SE Stark St.
More info: thegoodfoot.com
It's the Goodfoot's 22nd anniversary among all the events we will have an art opening Thurs March 2 The show will be up until March 27th. This months feature artists are andyvanoverberghe, Abby Austin, Rob Iggulden. Along with DJ Kaeli Herz selecting the music for the night.
Abigail Austin
As an illustrator and fabricator from New York City, I draw inspiration from the time I spent surrounded by the city's bold, industrial, and at times chaotic aesthetic. Since moving to Portland, Oregon, I've become fascinated with how this city has its own unique, sprawling structures and architectural style. Through my art, I aim to showcase the overlooked beauty and functionality of urban environments by incorporating impossible structures and vivid colors into my work. Beyond the urban environment, I also find inspiration in the small details that are often overlooked in our own homes. By shifting scales, I aim to highlight the similarities and differences between urban landscapes and our domestic space. Whether it's the things in our kitchen, the patterns in a carpet, or the shadows cast by furniture, I strive to create illustrations that capture the beauty and complexity of our daily surroundings. Ultimately, I hope to inspire viewers to take a closer look at the world around them and find wonder in the seemingly mundane.
andyvanoverberghe
Drawing is my personal meditation. It is a documentation of my own mental therapy and a catalogue of growth and adaptation. Disciplines, studies, inspirations, and interests from a wide variety of philosophies, spiritualities, sciences, and fantasies fuse in the balance of my creative process. Every element is a symbol or representation of an idea. Like cogs on gears all lines work together to form patterns. Visual textures mimic patterns of nature and of thought. Free flowing ideas with regard to strict disciplines and loose line work. A gathering of lines are simple forms of highly complex ideals. Like atoms forming matter. Lines forming patterns. Patterns forming texture. Textures forming shapes. Shapes forming thought. Thought forming stories. Every piece tells a story. Every story has a purpose, a lesson, and life.
Rob Iggulden
Unsatisfied working as a digital 3D artist, Rob returned to his initial passion: cartoons. Inspired by animators like Mike Judge and John Kricfaluci, Rob creates work that hovers between boredom and insanity, cataloguing the unexciting endeavors of the high-strung burnout.