Alberta Rose Theatre Presents Portland Music Stream | Support Local Artists, 20 Hour-Long Shows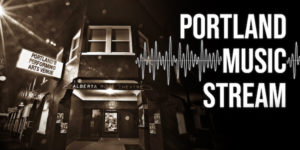 Alberta Rose Theatre Presents Portland Music Stream
All Ages
May 20-June 14, 2020
More info: etix.com
Bringing you live-streamed concerts by some of the world's finest talents and sent directly to you. It's a way to continue to see and hear the artists you love, support them through this gig-less time, share a concert experience and connect with others in the Portland music community.
THE PORTLAND MUSIC STREAM is a subscription service. For $100 you will get 20 concerts sent to you, with new shows 5 nights per week and all available on demand. Season 3 airs between May 20th – June 14th. Your subscription will help keep a vital venue alive, musicians able to perform, and foster community in this time of social distancing.
Proceeds help the Alberta Rose Theatre, artists, musicians, and other independent contractors. The more subscribers we get to the channel, the more we can also donate to the Jeremy Wilson Foundation! The JWF is a musicians' health care non-profit that supports the musicians of Portland with vital services.