Portland's 2023 Cathedral Park Jazz Festival | Longest-running Free Jazz Festival West of the Mississippi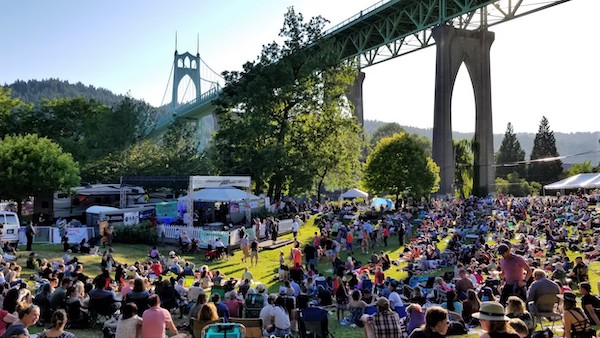 The Cathedral Park Jazz Festival is both the longest-running free annual jazz festival west of the Mississippi. The free event features local jazz, blues, soul, and Latin artists.
——————–
Related Portland Events & Info
——————–
Cathedral Park FREE Jazz Festival
July 14-16, 2023
More info: jazzoregon.org
The free Cathedral Park Jazz Festival [CPJF] featuring local jazz, blues, soul, and Latin artists will take place in Cathedral Park under the historic St Johns Bridge in North Portland for the 43nd year of the festival on Friday, July 14, Saturday July 15, and Sunday July 16, 2023.
Oregonians Credit Union and the Jazz Society of Oregon [JSO] are this year's presenting sponsors.  The festival is organized by the Jazz Society of Oregon), which is currently seeking sponsors, donations, and volunteers.
CPJF is the longest-running free annual jazz festival west of the Mississippi – and Portland's longest-running annual community event, according to organizers. Future announcements will provide the full lineup and times of each performance. There is no admission charge.
Final performance lineup and schedule
Friday is dedicated to the Blues, Saturday and Sunday feature a mix of jazz, soul, and Latin music.
Friday, July 14:
4:30-5:30pm – Singer, songwriter, guitarist Mary Flower, is considered a world-class finger-style guitarist and lap slide player. In addition to performing at folk festivals around the world, she is a dedicated guitar teacher, hosting the annual "Blues in the Gorge" intensive for 10 years. With 13 CDs to her name she has been awarded seven Muddy awards for Acoustic Guitar, was twice a finalist in the International Fingerstyle Guitar Championship and nominated three times for the Blues Music Award.
6-7pm – Terry Robb Trio, with drummer Gary Hobbs, bassist Dave Captein, and virtuoso blues guitarist Terry Robb, who is also a composer, singer, and producer. Robb has released 15 albums and has toured with Buddy Guy, Steve Miller, Robin Trower, and John Fahey; Captein has performed with Larry Coryell, Mose Allison, Wynton Marsalis, and Tom Grant; Hobbs has played with the Stan Kenton Orchestra, Bud Shank, Anita O'Day, and the Woody Herman Orchestra.
7:30-8:30pm – The Gold Experience, a collaboration of veteran blues, soul, gospel, hip-hop, and jazz musicians, backing up artists, such as Buddy Guy, BB King, Pleasure, the Neville Brothers, Sting, Aretha Franklin, and others.
9-10pm – Award-winning blues, blues rock and soul blues vocalist, instrumentalist and songwriter Curtis Salgado was the inspiration for John Belushi's Blues Brothers. He has 10 albums to his name and performs here with his band.
Saturday, July 15:
1-2pm – The 1905 Orchestra blends both classic jazz and contemporary big band music.
2:30-3:30pm – Dmitri Matheny Group, "West Coast Cool", will play from the Chet Baker songbook. A protegee of Art Farmer, flugelhornist Matheny has also been compared to Miles Davis and Chet Baker. He is accompanied by vocalists Zach Connolly and Holly Pyle.
4-5 pm – Shoehorn's Hatband is an unusual jazz quartet led by tap-dancing saxophonist Michael Conley aka Shoehorn, who dances while he plays.
5:30-6:30pm – Chuchito Valdés – Cuban-born pianist, arranger, composer, and bandleader Valdes has performed for large audiences in South America, Europe, and the U.S. He is a master of Cuban music (mambo, danzon, timba/salsa, and guaguanco) with a passion for American jazz and classical music.
7-8pm – 3 Leg Torso – Originally a trio, now a quintet with an original, eclectic sound, 3 Leg Torso has released six CDs and composed music for films, TV and symphony orchestras. Calling themselves "modern chamber pop music", the group's music is influenced by tango, Eastern European folk music, other world music, chamber music, and rock and roll. Béla Balogh (violin, trumpet, piano, octave mandolin), Courtney Von Drehle (accordion, tenor sax, slide guitar), T.J. Arkko (percussion), and Bill Athens (double bass).
8:30-9:45pm – Ural Thomas and the Pain – Thomas topped the soul charts in the 1960s and was brought back to the live music scene by a group of young Portland musicians. A showcase for vintage soul and funk, this group always gets the audience dancing.
Sunday, July 16:
1-2pm – Portland Vanguard Big Band members combine Portland Youth Jazz Orchestra alumni, professionals, band directors, college students and top high school musicians. They will play big band music from all eras.
2:30-3:30pm – Latin jazz vocalist Jesse Marquez blends Cuban, Brazilian, jazz and pop sounds with lush harmonies. She recorded in Havana with members of the Afro Cuban All-Stars.
4-5 pm – New York-based organist and composer Brian Charette will be accompanied by Portland's own Mel Brown on drums and Pink Martini's Dan Faehnle on guitar. The trio will take us on a tour of jazz organ history.
5:30-6:30pm – Yak Attack is a live electronica power trio, drawing on a wide spectrum of electronica along with elements of jam, funk, and jazz.
7-8:15pm – Jr Soul Masters of Funk is an 11-piece band, including some original members of the iconic 1970's group Pleasure, in a tribute that blends soul, funk, and jazz,
Keep it free: volunteers, sponsors, donations needed
"To help keep the festival free, the CPJF planning committee is seeking sponsors, donations, and volunteers," noted Yvonne Lerch, CPJF Managing Director.