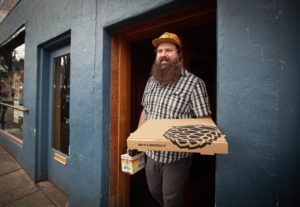 Double Mountain Brewery To-Go
Full Menu + More info: www.doublemountainbrewery.com
Double Mountain Brewery is open for TO-GO, not only in Hood River, but at our Southeast PDX location in Woodstock as well. We are working on an online ordering system, which should be up early next week, but you can call in your order, 503-206-5495.
We are currently running our full menu, including, pizza, sandwiches, starters, and of course Beer and Cider. Our beer and cider comes in new Growlers, 500mL, and 6 packs, depending on the brand, but reductions may come in the future depending on demand.
$10 64 oz growler fill. New growler glass only, we are not filling customer's glass, for safety reasons. 6 packs $10