From our sponsors: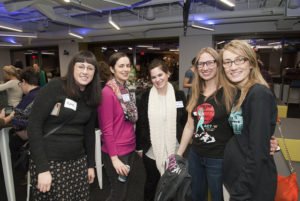 PDXWIT Presents: February Happy Hour Networking Event
February 18, 2020
4:30-6:30 p.m. | Free | All Ages
More info: eventbrite.com
PGE Sky Bridge Terrace
2WTC 121 SW Salmon Street, Use either escalator at Building 1 or 3 to enter
Portland, OR 97204
Join us for Happy Hour at Portland General Electric (PGE) on February 18th!
At our February Happy Hour we will be honoring a local legend here in Portland: Donna Hammond, one of Oregon's first black female electricians. Ms. Hammond has lived a tremendous life, having dealt with significant cultural isolation within her industry.
The theme of the evening will be "Isolation at Work." To get the conversation flowing, the conversation prompt will be "Have you ever felt isolated at work?"
While the event is primarily intended for networking, we will have a short segment at 5:30 pm to share important announcements and showcase members of our community.
Hazel Valdez and Dawn Mott will be our emcees for the evening.
A representative from our host company Portland General Electric will share what they do and what job opportunities are available at the company
Donna Hammond will share her story and highlight a local organization that is making a difference in Portland.
During the event, we'll have more to do than free-form networking:
An Activity Table where people can get creative. This is a fantastic way to meet others if large groups are not your thing. If you have trouble finding it, look for Meg Aul, our Event Activities Director.
A section for job seekers and those hiring, to ensure people get connected.
A PDXWIT volunteer table, where community members can learn about volunteer opportunities that exist within the organization.