From our sponsors: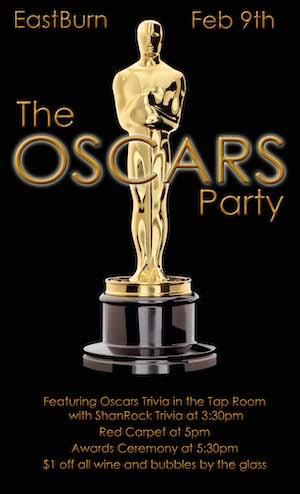 Oscar Quiz & Viewing Party
February 9, 2020
3p Trivia, Oscars Start at 4:30p
More info:
The Eastburn Public House
1800 E Burnside St., Portland, Oregon 97214
The season of the naked gold man has begun! Once again it is time to gather, predict, and show off your knowledge of Oscar lore. The Tap Room, downstairs at Eastburn, opens at 3p, and Oscar trivia begins shortly thereafter.
We'll have the red carpet on in the background the whole time. All eras are fair game, but there will be a focus on the current nominees.
The pub quiz will end about 4:30, and you are enthusiastically invited to stick around to watch the awards show starting at 5p. The champion trivia team will receive a gift certificate to the bar and an engraved Oscar trophy; the Peter O'Toole! As always, costumes are heartily encouraged.