From our sponsors: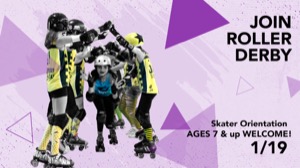 Rose City Rollers Skater Orientation
January 19, 2020
Adults 9-10a
Juniors 10:30-11:30a
More info: rosecityrollers.com
Rose City Rollers Hangar at Oaks Amusement Park
SE Oaks Park Way
Portland, OR 97202
Join Rose City Rollers – get in on the action! Adult skaters joining at all skill levels (from never-been-on-skates to All Star, and every point in between) get started at Orientation. This covers league basics, culture, dues, insurance, and meeting some people in the league.
Considering joining junior roller derby or know someone who is? Awesome! Rose City Rollers' Junior Derby Programs are the best in the world.
Youth skaters ages 7-12 may join the Rose Petals as Butterflies.
The Butterflies are the groups where junior derby skaters begin their journey! Butterflies will be eligible to join home teams on the Rose Petals after achieving skating skills requirements.
So, if you want to learn awesome skating skills and become a part of the supportive and empowering community that is derby, 1/19/20 is the day to start your derby adventure!