From our sponsors: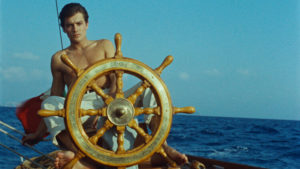 Purple Noon (35mm) & Take Aim at The Police Van (Digital)
January 17-19, 2020
See film schedule below
Admission is FREE for PSU students & faculty w/ID.
$4 for all other students & seniors.
$5 General Admission
More info: 5thavecinema.com
5th Avenue Cinema
510 SW Hall St, Portland, OR 97201
Purple Noon (35mm)
Dir. René Clément (1960); France, 118m
Starring: Alian Delon, Maurice Ronet, Marie Laforêt
French with English subtitles
Programmed by: Sam Schrader
FRIDAY, January 17 @ 7:00PM
SATURDAY, January 18 @ 7:00PM
SUNDAY, January 19 @ 3:00pm
Starring the gorgeous Alain Delon in his first major film role, and directed by Réné Clément, Purple Noon (Plein soleil) is a French & Italian co-production based on Patricia Highsmith's novel The Talented Mr. Ripley. Released in 1960, the film was immediately met with critical and financial acclaim. There is little more to say on the film, as it did not garner any controversies, nor did its production encounter any incredible obstacles. What follows is an elegant and visually pleasing (did I mention how unbelievably pretty Alain Delon is?) crime film, and sometimes that's really all you need.
Take Aim at The Police Van (Digital)
Dir. Seijun Suzuki (1960); Japan, 79m
Starring: Michitarô Mizushima, Misako Watanabe, Shôichi Ozawa
Programmed by: Matt Carr
FRIDAY, January 17 @ 9:30PM
SATURDAY, January 18 @ 9:30PM
SUNDAY, January 19 @ 5:30PM
MANY ACCIDENTS HAVE OCCURRED IN THIS AREA… CAUTION!
Packed with enough tough talk, slick camerawork, and dark secrets to leave any noir fan drooling, Take Aim at the Police Van is a hard boiled and off kilter crime thriller. Directed by Japanese counterculture hero Seijun Suzuki,the film follows a prison driver hunting down a mysterious sniper who killed two prisoners he was transporting.
Seijun Suzuki, was an important member of the Japanese New Wave movement challenging the conventions of both Japanese aesthetics and Japanese society. Directing nearly 50 films over 5 decades, Suzuki is frequently credited with inspiring international artists with his genre bending approach. Quentin Tarantino paid homage to Suzuki in the vibrant Tokyo-set sequences of Kill Bill, Vol. 1(2003) and Western critics often point to Suzuki's psychedelic style influencing free jazz and Pop Art. Take Aim At the Police Van highlights Suzuki's unique, exciting style and exemplifies a Japanese take on Noir.
About 5th Avenue Cinema
Oregon's only student run cinema has been operating non-profit since 1989. Our goals are to provide further education for PSU students interested in film, as well as a fun place for people to see something they wouldn't ordinarily get to see on the big screen. The general public is always invited to attend and there is FREE POPCORN at every show. Our feature films are presented on 35mm film, with the occasional screening on our rare Norelco 16mm projector.