From our sponsors: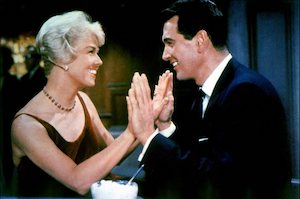 Pillow Talk & Design for Living
January 10-12, 2020
See film schedule below
Admission is FREE for PSU students & faculty w/ID.
$4 for all other students & seniors.
$5 General Admission
More info: 5thavecinema.com
5th Avenue Cinema
510 SW Hall St, Portland, OR 97201
The ability for the film industry to depict sexual, romantic relationships on screen depended on a very important censorship code known as the Motion Picture Production Code of 1934. The code was a guide for what was acceptable and unacceptable content for films. Some themes that were banned by the code were: "adultery", "sex perversion", "scenes of passion", or "profanity". The code became less enforced by the 1960s, but didn't entirely disappear until the arrival of the rating system in 1968.
Pillow Talk (1959) and Design for Living (1933) serve as both pre-code and post-code depictions of relationships on screen. Pillow Talk (1959) stars on-screen team Doris Day and Rock Hudson. The film exemplifies the enforcement of the code in that it tamely depicts the sexual relationship between the two characters as lighthearted. There are no frank discussions of sex and farcical phrases such as "bedroom problems" are used to describe trysts. The film's depiction of sex is tame compared to Design for Living (1933), which went against the code due to its use of innuendos and its blunt discussion of sex (the word is actually used in the film!) The narrative involves the theme of a ménage-à-trois relationship, which ultimately led to the film being banned in 1934. In comparison to Pillow Talk, the film has a far more modern view towards relationships, but both are incredibly entertaining comedies that will be delightful on 35mm.
Pillow Talk (35mm)
Dir. Michael Gordon (1959); USA, 102m
Starring: Rock Hudson, Doris Day, Tony Randall
Programmed by: Amelia Eichler
FRIDAY, January 10TH AT 7:00PM
SATURDAY, January 11TH AT 7:00pm
SUNDAY, January 12TH AT 3:00pm
Design For Living (35mm)
Dir. Ernst Lubitsch (1933); USA, 91m
Starring: Fredric March, Gary Cooper, Miriam Hopkins
Programmed by: Amelia Eichler
FRIDAY, January 10TH AT 9:30pm
SATURDAY, January 11TH At 9:30pm
Sunday, January 12TH AT 5:30PM
About 5th Avenue Cinema
Oregon's only student run cinema has been operating non-profit since 1989. Our goals are to provide further education for PSU students interested in film, as well as a fun place for people to see something they wouldn't ordinarily get to see on the big screen. The general public is always invited to attend and there is FREE POPCORN at every show. Our feature films are presented on 35mm film, with the occasional screening on our rare Norelco 16mm projector.