From our sponsors: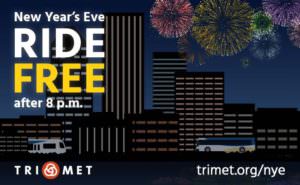 Celebrate Safely With TriMet
December 31, 2019
8 p.m. | More info: trimet.org
Once again, TriMet is offering free bus, MAX and Portland Streetcar service after 8 p.m. on New Year's Eve! And with special extended late-night MAX service, you can get to the celebration — and home again — the safe and smart way.
Hop on any TriMet bus, MAX or Portland Streetcar after 8 p.m. — no need to tap your Hop card or buy a ticket at the station. (Transfers are free, too!)

MAX runs until 3 a.m.
MAX Blue, Green, Orange and Yellow lines will provide extended service, running approximately every 30–35 minutes until about 3 a.m., and MAX Red Line will run shuttle bus service to Portland International Airport until 3:30 a.m.
Service on New Year's Day
On January 1, buses, MAX and Portland Streetcar will run on Sunday schedules. WES Commuter Rail will not be in service. The 503-238-RIDE call center and the Ticket Office at Pioneer Courthouse Square will be closed.