From our sponsors: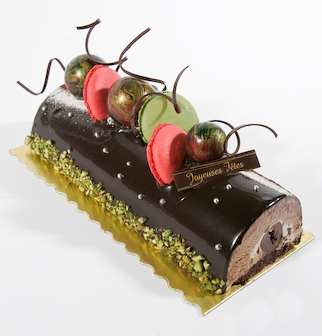 Holidays at Pix Patisserie
Available through December 31, 2019
Open daily 2p-12A (December 13 opens at 4p)
Open Christmas Eve 10AM – 6PM for last minute snacks and drinks
More info: pixpatisserie.com
Pix Patisserie
2225 E. Burnside St., Portland, OR 97214
971.271.7166
Bûche de Noël is the holiday cake in every French household. Traditionally they are made with a rolled sponge cake and buttercream, but some of the best shops (and Pix!) offer more modern versions as well.
Here are Pix's creations…9" cake $45 (About 8 servings) All our Bûche de Noël are gluten free!
To order call 971.271.7166
Bûche Traditional
The classic cake resembling the Yule log – chocolate flourless sponge cake rolled up with your choice of HAZELNUT, FLEUR DE SEL CARAMEL or VANILLA cream.
Sicilian
Canoli filling, kirsch cherries, chocolate mousse and chocolate flourless sponge cake.
Chocolate Port Fig
Shiny glazed chocolate mousse, port-soaked figs, salted Marcona almonds, chocolate ganache and chocolate cake.