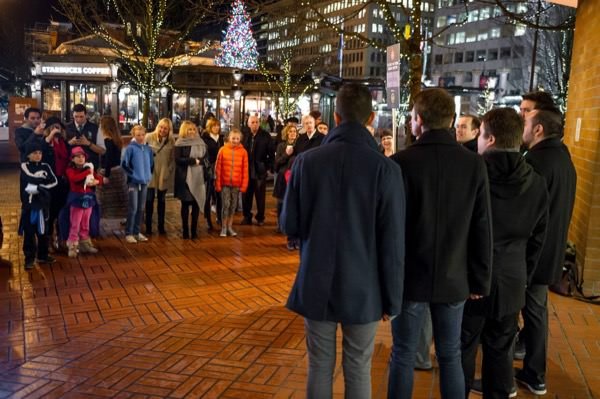 This weekend in Downtown Portland, Pioneer Courthouse Square will host the Annual Great Figgy Pudding Caroling Competition on Friday followed by the Annual Tuba Christmas Concert on Saturday.
———————————————
Related Portland Holiday Events and Info:
———————————————
From press release: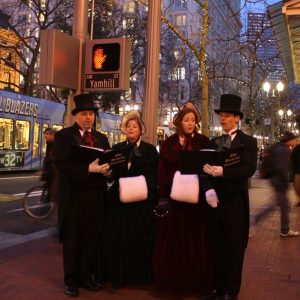 The Great Figgy Pudding Caroling Competition // Tuba Christmas Concert
December 13-14, 2019
Friday 5:30-7:30 p.m.
Saturday 1:30-3p
FREE | All Ages
More info: thesquarepdx.org
Pioneer Courthouse Square
701 SW 6th Ave, Portland, OR 97204
Pioneer Courthouse Square is excited to bring back two beloved, family-friendly, holiday traditions next weekend in our City's Living Room.
On Friday, December 13, Pioneer Courthouse Square in partnership with Portland Mall Management, Inc. will present The Great Figgy Pudding Caroling Competition. Over a dozen local caroling groups will convene in the Square then move out to locations along Portland's Transit Mall on SW 5th, 6th as well as on SW Yamhill and Morrison
Streets where they will perform holiday caroling favorites for Downtown visitors from 6-7pm. Event attendees can stop by the Square to pick up a map of each group's location, which will also be identified with caroling team signage. Some of this year's caroling teams include: B-Side Book Club, Good Measure, Happenstance and many more!
To join in the fun each event attendee will also receive a FREE token to vote for the 'People's Choice' caroling group. Tokens and caroling group location maps can be pick up at Pioneer Courthouse Square prior to, and during, the event while supplies last. Local favorites, The Dickens Carolers, will judge each caroling group based on four categories – creativity, singing ability, street presence and originality.
The Dickens Carolers will choose the top three singing groups of the night who will then perform onstage at Pioneer Courthouse Square at 7:15 pm for all to enjoy. Audience applause will decide First, Second and Third place winners with first place being awarded the $1,000 grand prize!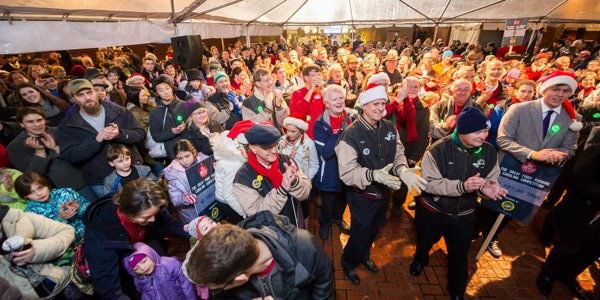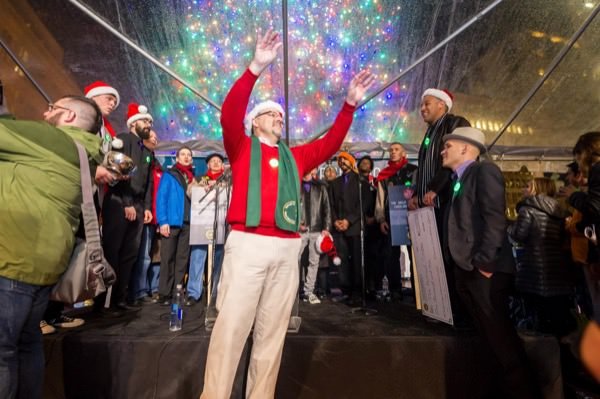 —————–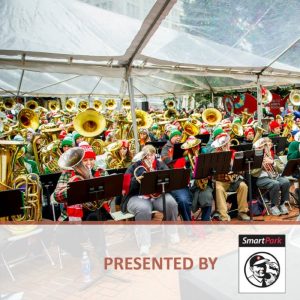 The next day, Saturday December 14th from 1:30pm-3:00pm, downtown will pulse with the big brass sound of nearly 300 tubas playing in unison for the 29th Annual Tuba Christmas Concert presented by SmartPark. This beloved annual tradition is FREE for the public to enjoy and will be conducted by retired Oregon Music Educator Chuck Bolton. For the second year, the Portland Opera will lead the crowd on a select number of songs to sing-a-long as the sound of the tubas fill the Square.
Tuba Christmas brings together tuba, euphonium and baritone horn musicians one day each year to perform joyous holiday classics. Interested musicians can register to play in this year's concert at thesquarepdx.org or by calling 503.223.1613. Day of registration will also be available in-person prior to the performance's only rehearsal held at Hoffman Hall at Portland State University from 9:00-10:00am. The registration fee to participate is $10.00 and includes a commemorative 2019 Tuba Christmas button. Official Tuba Christmas hats, scarves, headbands and music books are also available for purchase at rehearsal and at the Tuba Christmas performance held at the Square between 1:30 and 3:00pm.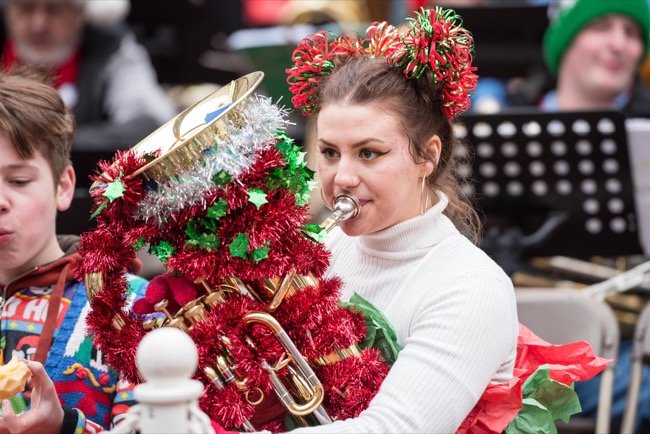 For further details on The Great Figgy Pudding Caroling Competition, Tuba Christmas Concert and all the FREE community events held at Pioneer Courthouse Square, near the Square and throughout Downtown this holiday season visit us at thesquarePDX.org or follow us on Facebook, Instagram or Twitter.