From our partners: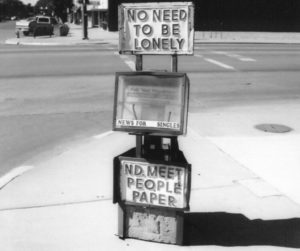 The Next Best Place: 4 Short Landscape Films (Digital)
December 6-8, 2019
Friday & Saturday 7pm @ 9:30pm
Sunday @ 3pm
Admission is FREE for PSU students & faculty w/ID.
$4 for all other students & seniors.
$5 General Admission
More info: 5thavecinema.com
5th Avenue Cinema
510 SW Hall St, Portland, OR 97201
The Next Best Place: 4 Short Landscape Films (Digital)
Dir. Bill Brown (1994, 1999, 2001, 2003); USA, 92m
Programmed by: Sam Schrader
In these four short film essays, Bill Brown considers the North American landscape as a text to be deciphered and the road trip as an extension of the act of filmmaking — or is it the other way around? These dispatches from the 1990's were transmitted from a secret island that emerged briefly at the end of the Cold War before sinking beneath rising oceans and hyper-anxiety. Roswell (1994), Confederation Park (1999), Buffalo Common (2001), and Mountain State (2003).
About 5th Avenue Cinema
Oregon's only student run cinema has been operating non-profit since 1989. Our goals are to provide further education for PSU students interested in film, as well as a fun place for people to see something they wouldn't ordinarily get to see on the big screen. The general public is always invited to attend and there is FREE POPCORN at every show. Our feature films are presented on 35mm film, with the occasional screening on our rare Norelco 16mm projector.