From our partners: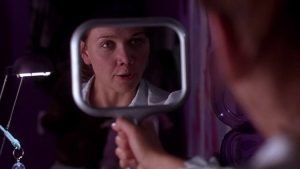 Secretary (35mm)
November 29-December 1, 2019
Friday & Saturday 7pm @ 9:30pm
Sunday @ 3pm
Admission is FREE for PSU students & faculty w/ID.
$4 for all other students & seniors.
$5 General Admission
More info: 5thavecinema.com
5th Avenue Cinema
510 SW Hall St, Portland, OR 97201
Secretary (35mm)
Dir. Steven Shainberg (2002); USA, 107m
Starring: James Spader, Maggie Gyllenhaal, Jeremy Davies
Programmed by: Amelia Eichler
Steven Shainberg's film Secretary is everything that Fifty Shades of Grey tried to emulate. The ever-charming Maggie Gyllenhaal plays a shy young woman named Lee Hollaway who is looking to improve her life after experiencing mental health issues. She finds a job as a secretary to the very demanding E. Edward Grey, played by everyone's favorite brat pack bad boy James Spader. The two embark on a BDSM relationship, which fosters a personal and sexual growth for Lee. Shainberg attempted to create a positive portrayal of BDSM relationships. Using set design he portrays Grey's office as a natural space that isn't reflective of the outside world, which is full of manufactured colors. The film has a lot of touching moments that are executed with ease thanks to the wonderful cast and insightful direction.
About 5th Avenue Cinema
Oregon's only student run cinema has been operating non-profit since 1989. Our goals are to provide further education for PSU students interested in film, as well as a fun place for people to see something they wouldn't ordinarily get to see on the big screen. The general public is always invited to attend and there is FREE POPCORN at every show. Our feature films are presented on 35mm film, with the occasional screening on our rare Norelco 16mm projector.