From our partners: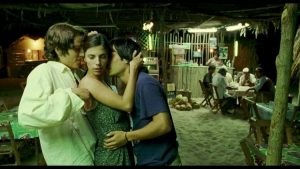 Y TU MAMÁ TAMBIÉN (35MM
November 22-24, 2019
Friday & Saturday 7pm @ 9:30pm
Sunday @ 3pm
Admission is FREE for PSU students & faculty w/ID.
$4 for all other students & seniors.
$5 General Admission
More info: 5thavecinema.com
5th Avenue Cinema
510 SW Hall St, Portland, OR 97201
Y Tu Mamá También (35mm)
Dir. Alfonso Cuarón (2001); Mexico, 106m
Starring: Maribel Verdú, Gael García Bernal, Diego Luna
Spanish with English subtitles
Programmed by: Sam Schrader
The Oxford English Dictionary defines magical realism as a "style in which realistic techniques are combined with surreal or dreamlike elements." But it would be too easy to simply call Y tu mamá también a magical-realist coming of age story, although at its most distilled, that is what it is.
This breakout film by Mexican director Alfonso Cuarón is part road movie, part comedy, part tragedy, all set against the magical-realist backdrop of modern Mexico as it was at the dawn of the 21st century. The film functions on a basic premise: teenage best friends Julio and Tenoch (Gael García Bernal and Diego Luna) find themselves, almost miraculously, on a road trip with Luisa, a beautiful older woman. As they travel together towards a destination that the boys made up, the trio explores the Mexican countryside, interrogating the depths of their friendship, their class differences, and what it really means to grow up.
About 5th Avenue Cinema
Oregon's only student run cinema has been operating non-profit since 1989. Our goals are to provide further education for PSU students interested in film, as well as a fun place for people to see something they wouldn't ordinarily get to see on the big screen. The general public is always invited to attend and there is FREE POPCORN at every show. Our feature films are presented on 35mm film, with the occasional screening on our rare Norelco 16mm projector.