We are giving away 5 pairs of tickets to America's Largest Christmas Bazaar @ Portland Expo Center. To win, comment on this post why you'd like to attend. Winner will be drawn and emailed November 22.
———————————————
From our sponsors: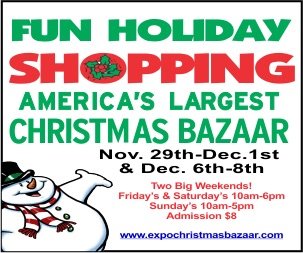 America's Largest Christmas Bazaar
November 29-December 1, 6-8, 2019
Friday & Saturday 10a-6p
Sunday 10a-5p
$8 for adults – kids 12 and under are only $3
More info: expochristmasbazaar.com
Portland Expo
2060 N Marine Dr, Portland, OR 97217
(503) 736-5200
For the past 39 years, America's Largest Christmas Bazaar has been a day-after-Thanksgiving tradition for thousands of families! You can find hundreds of handcrafted gifts made by local and regional artisans and craftspeople. The handcrafted sections of the show are juried, so only the best-of-the-best is allowed to display. The entire show is filled with hundreds more gift ideas as well; it's the most complete gift show of its kind in the Northwest! The show runs this November 29, to December 1, and the next weekend too: December 6 – 8. For more info visit: www.expochristmasbazaar.com.
This show is a fantastic way to exchange the frantic shopping environments of the malls to strolling down the aisles at the Expo Center where you'll find the perfect blend of made-by-hand items, whimsical stocking stuffers, as well as gifts, gadgets and deals. Visiting Santa's Village and all the vendors who fill the 1,000 booths at the show makes your holiday shopping fun again! Many of the vendors have been working on their gifts, toys, treats and decorations since early this year (much like a big red elf we all know).
Among the hundreds of booths you will discover special gifts for men, women, children, friends and even your pet! You'll find hand-crafted, one of a kind gifts, holiday foods and gourmet treats, personalized ornaments, apparel, fresh greenery, useful household gadgets, all kinds of jewelry, stocking stuffers, gifts from foreign lands, vintage collectibles and much more. Rather than running all over the city to fulfill your gift list, make America's Largest Christmas Bazaar your one-stop shopping experience. Look for gorgeous items made here in the Northwest such as candles, jewelry, hand-painted personalized Christmas ornaments, soap sold by the slice, organic natural beauty products, and much, much more!
Kids and kids at heart will enjoy an enchanted and interactive window display with Santa as the star. A quality photographer will be there for all six days so you can commemorate the holiday season with a beautiful photo of you with Santa. Be sure to stop by!
For the past 39 years, America's Largest Christmas Bazaar has been on the forefront of helping the hungry during the holidays. On Friday, December 6th – bring two cans of food (per person) and get free entry to the show. The Christmas Bazaar has provided more than two tons of food for the Portland Police's Sunshine Division every year since 1985. This is one of the largest single food donations made by a local Portland business.
If you are looking for personalized hand-crafted ornaments, decorations, gifts and more – America's Largest Christmas Bazaar is for you. Two weekends only at the Expo Center!