From our sponsors: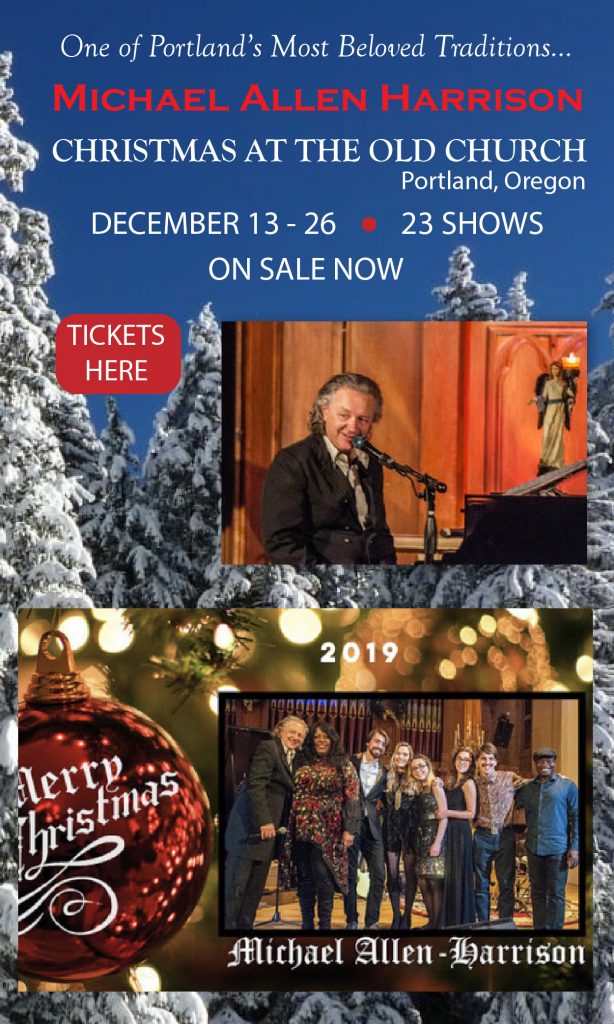 Michael Allen Harrison's Christmas At The Old Church
December 13-26, 2019
23 Shows, see ticketing page for showtimes
$22.50 – $59.95
More info: michaelallenharrison.com
The Old Church
1422 SW 11th Ave, Portland, OR 97201
Michael Allen Harrison presents the 29th season of his famous "Christmas At The Old Church".
His Christmas show is one of the most beloved holiday traditions in Portland.
Michael's beautiful piano arrangements and the incredible vocals of Gospel, Blues & Jazz singer, Julianne Johnson, will blow you away.
Come enjoy the best artists and new young talent Michael has discovered right from our own community.
Michael believes the show's success comes from the feelings and memories created together, as we listen to the music of the season; some of the greatest music ever written.
​With Special Guest Jennifer Batten
World Renowned Guitarist Jennifer Batten will be my Special Guest for all 23 shows…Jennifer played with Michael Jackson for over 10 years with 3 world tours and a Super Bowl appearance.
Jennifer moved to Portland, Oregon for a quieter life and can't wait to connect with us at The Old Church
And… Special Guest Bill Schonely – "The Schonz"
Dates For Bill's Appearances
Dec. 13th – 7:30pm
Dec. 14th – 4:00pm
Dec. 15th – 5:00pm
Dec. 17th – 7:30pm
Dec. 22nd – 5:00pm