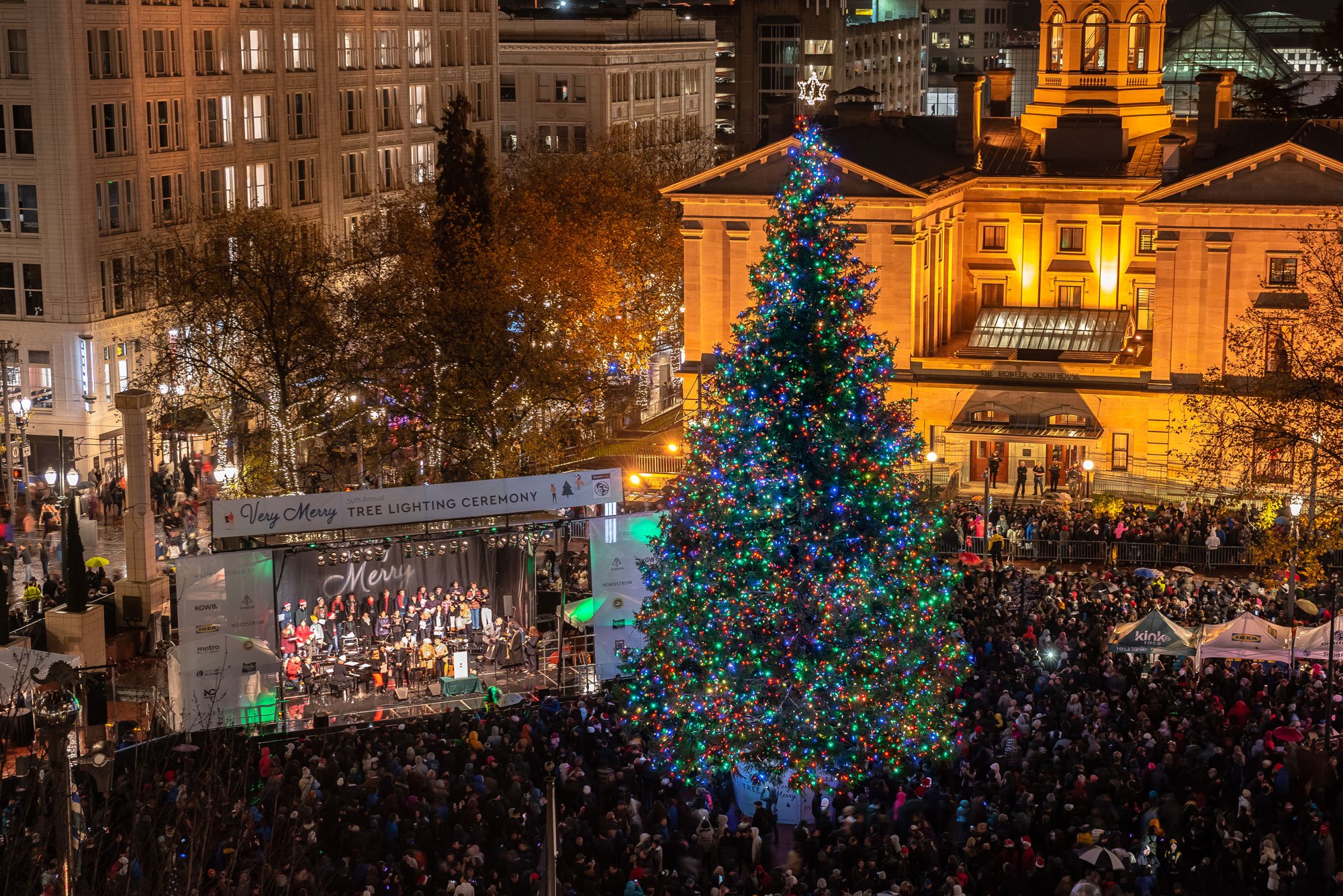 Portland's 2019 Christmas / Holiday tree arrives this November 15th in Pioneer Square. Festivities include Santa + music. The lighting is the Friday after Thanksgiving at 5:30PM. This tree lighting event will feature a holiday sing-a-long featuring Thomas Lauderdale with members of Pink Martini.
If you are going to the lighting event, it a good idea to go a bit early as it is rather crowded by 4PM.
———————————————
Related Portland Holiday Events & Info:
————
2019 Portland Stimson Lumber Christmas Tree Info:
Stimson Lumber Tree Arrival | November 15, 2019 | Noon | More info: thesquarepdx.org

Join us in Pioneer Courthouse Square on Friday, November 15th toofficially kick off the 2019 Downtown Holiday Season with the arrival of Portland's 75' Douglas-fir, generously donated by Stimson Lumber Company for the 18th consecutive year. This year's sustainably grown tree will leave the forest near Gaston, Oregon and begin its three-day journey to the Square with the help of Oregon's own Redmond Heavy Hauling trucking company. This will be Redmond Heavy Hauling's inaugural year bringing Portland's tree to the heart of downtown. Once the tree arrives from Gaston in Portland on November 15th, it will travel through Downtown along the Transit Mall and arrive in the Square to be presented to Pioneer Courthouse Square Board President Ron Stewart, Portland Parks Director, Adena Long and Nordstrom's Courtney Posey.
"Stimson Lumber is honored to donate this magnificent Tree to the City of Portland. Having our Tree displayed in our City's Living Room for thousands of visitors to enjoy throughout the holiday season is an annual tradition we look forward to each year", says Stimson Lumber Forester Rodney Jacobs. Those attending this event can enjoy live music from The Beat Goes On Marching Band, say hello to Santa and grab a delicious lunch at The Carts on the Square all while welcoming Portland's spectacular tree into the heart of downtown!
Portland's tree will be lifted into position in the center of the Square with a Link Belt HTC8640, a 40 ton capacity hydraulic truck crane, generously provided by NessCampbell Crane. Once positioned, Portland Parks & Recreation's Urban Forestry division will then help to secure the Tree into place. In the two weeks following this event, the Pioneer Courthouse Square Event Production team will skillfully reattach tree branches and work with Portland's own Hollywood Lights to adorn the City's tree with over 14,000 multi-colored LED lights which will illuminate Portland's Living Room through the New Year. The Square looks forward to bringing together over 20,000 Portlanders the day after Thanksgiving for the 35th Annual Tree Lighting Ceremony with a community sing-a-long led by Thomas Lauderdale, members of Pink Martini and more!
35th Annual Tree Lighting Ceremony presented by SmartPark | November 29, 2019 | 5:30pm Rain or Shine
Join thousands of Portlanders to celebrate the official start of the season by lighting the City's spectacular 75 ft. Douglas-fir.
The day after Thanksgiving, thousands of Portlanders will gather at the Square to celebrate the lighting of the spectacular 75ft Tree provided by Stimson Lumber Company. This beloved community tradition will feature a holiday sing-a-long with Thomas Lauderdale and members of Pink Martini.With a big tree, more than 14,000 colorful lights and Portland's largest community sing-a-long this is an event you won't want to miss!
————————————
Portland Holiday / Christmas Tree Photos & Video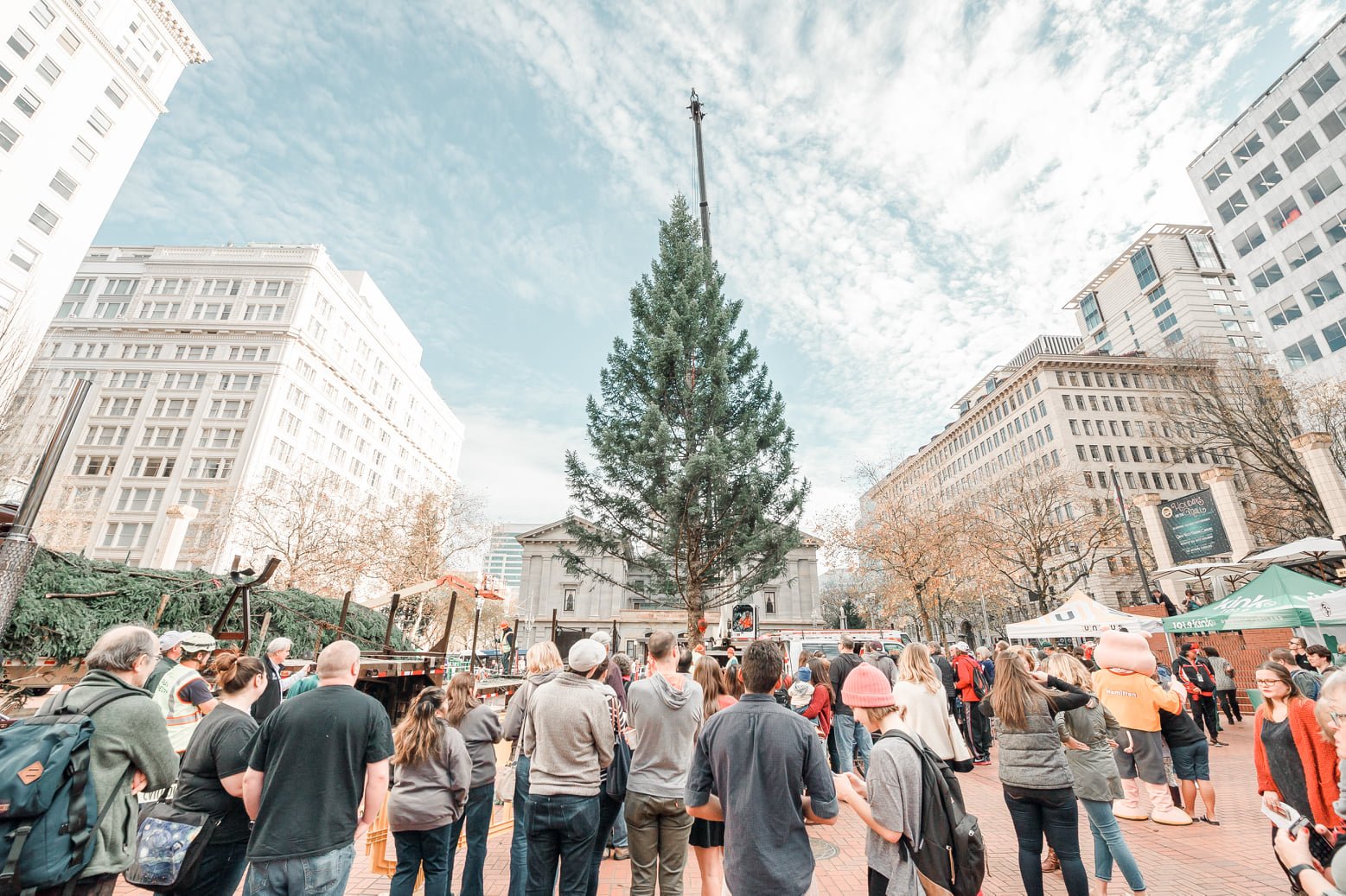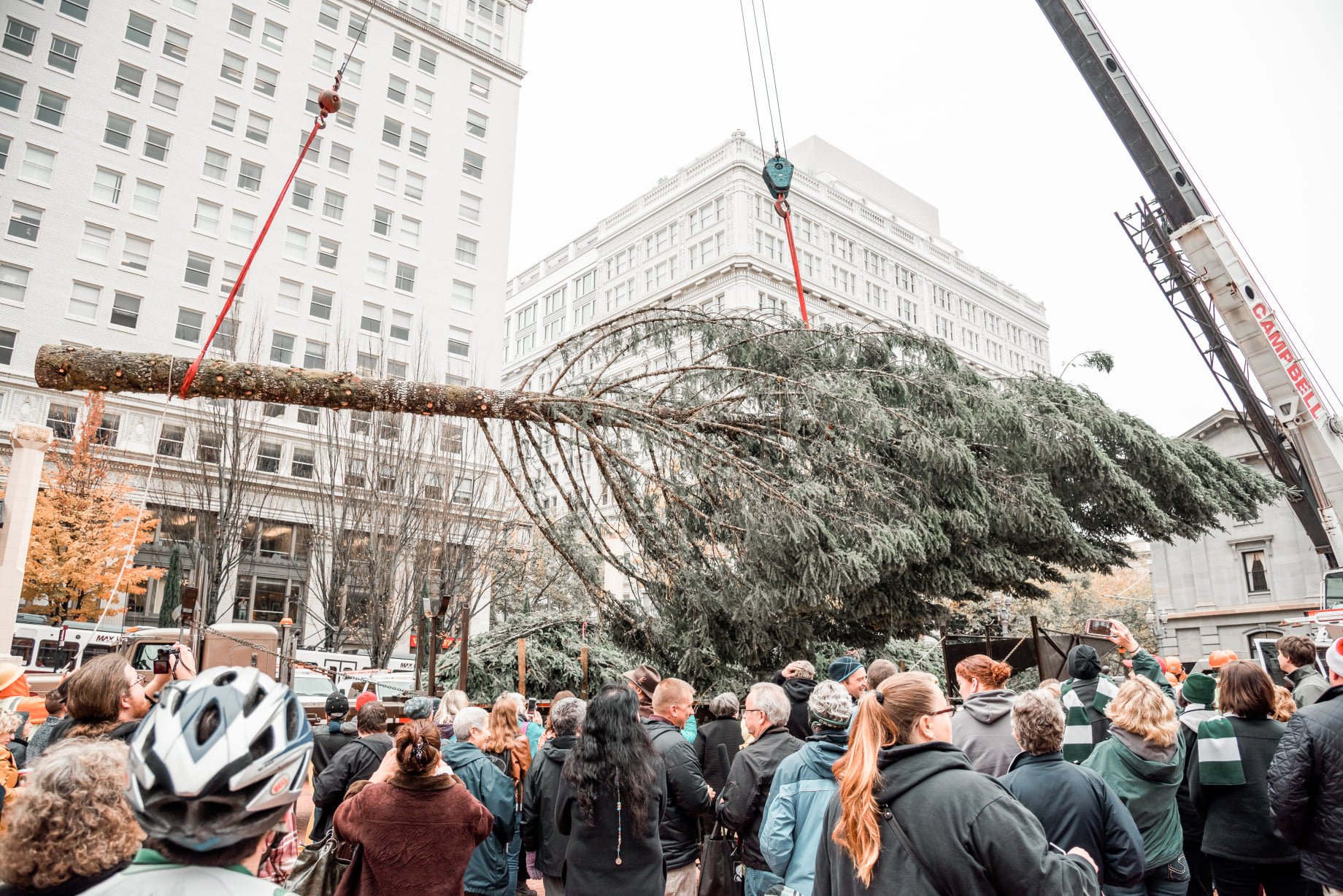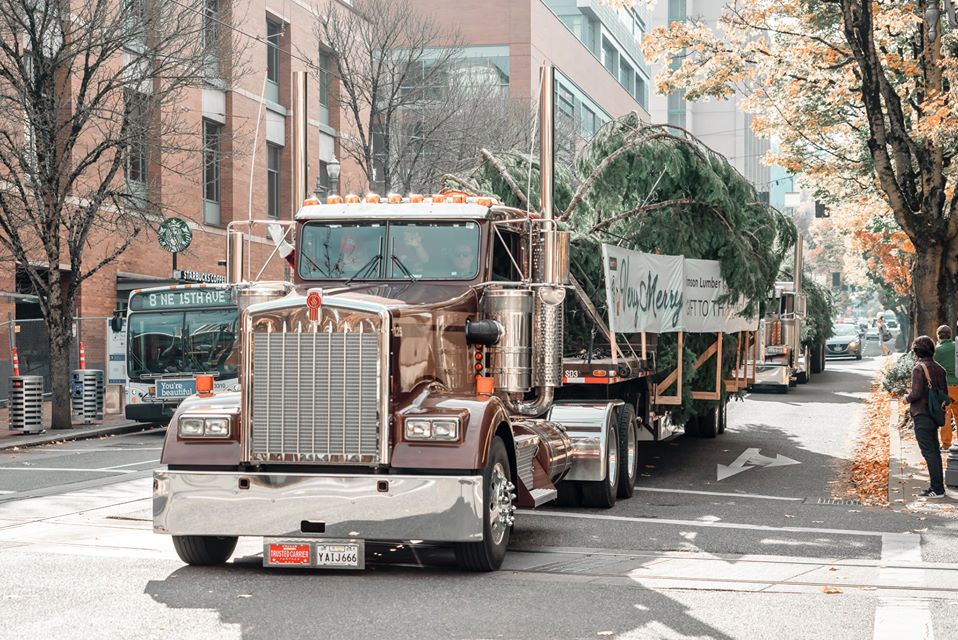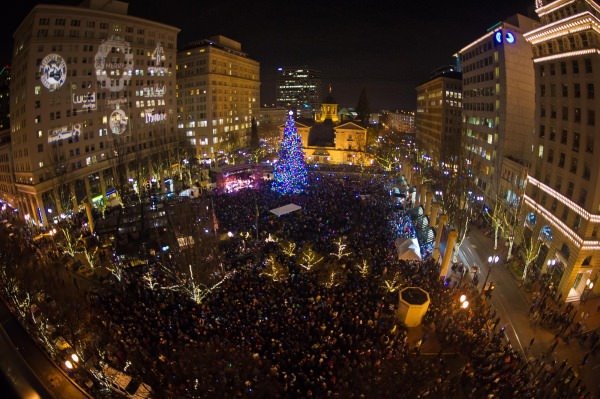 Portland (Christmas / Holiday) Tree Lighting Photo By Chris Lae

Christmas at Pioneer Courthouse Square at Blue Hour HDR phot by Flickr user David Gn Photography

A Portland Christmas by Flickr user Zeb Andrews.

Pioneer Courthouse Square tree by Flickr user Curtis Perry.

Pioneer Courthouse Square tree by Flickr user B Berrigan.

Pioneer Courthouse Square tree by Flickr user 305 Seahill.

Pioneer Courthouse Square tree by Flickr user saramarie.