From our partners: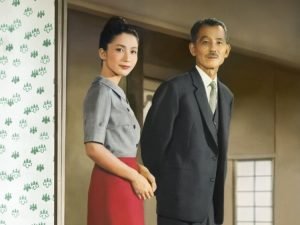 An Autumn Afternoon (35mm)
November 15-17, 2019
Friday & Saturday 7pm @ 9:30pm
Sunday @ 3pm
Admission is FREE for PSU students & faculty w/ID.
$4 for all other students & seniors.
$5 General Admission
More info: 5thavecinema.com
An Autumn Afternoon (35mm)
Dir. Yasujirô (1962); Japan, 133m
Starring: Chisû Ryû, Shima Iwashita, Keiji Sada
Japanese with English subtitles
Programmed by: Amelia Eichler
An Autumn Afternoon is Ozu's tender farewell film and the last of the family dramas he so beautifully directed. The film focuses on a widower Shuhei (Chishu Ryu) who feels obligated to find a suitor for his daughter Michiko (Shima Iwashita). He begins to resign to the changes around him in a world that is rapidly modernizing.
The film represents many of the themes that Ozu spent his life trying to capture on celluloid: loneliness, family, and marriage. The slow pace of the film, natural acting, and static camera allow us to see the changes in the family's fixed existence. The film is therapeutic in its message about life: things change and we carry on the best we can.
About 5th Avenue Cinema
Oregon's only student run cinema has been operating non-profit since 1989. Our goals are to provide further education for PSU students interested in film, as well as a fun place for people to see something they wouldn't ordinarily get to see on the big screen. The general public is always invited to attend and there is FREE POPCORN at every show. Our feature films are presented on 35mm film, with the occasional screening on our rare Norelco 16mm projector.