From our partners: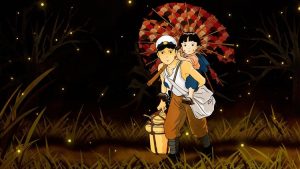 Grave of the Fireflys (DCP)
November 8-10, 2019
Friday & Saturday 7pm @ 9:30pm
Sunday @ 3pm
Admission is FREE for PSU students & faculty w/ID.
$4 for all other students & seniors.
$5 General Admission
More info: 5thavecinema.com
Grave of the Fireflys (DCP)
Dir. Isao Takahata (1988); Japan, 90m
Starring: Tsutomu Tatsumi, Ayano Shiraishi, Akemi Yamaguchi
Programmed by: Makaveli Gresham
A portrait of the citizenry of Japan throughout the Pacific War, Grave of the Fireflies generates a remembrance and visceral understanding of the impact on the Japanese themselves. Manga and anime have often been used for Japanese self perception, allowing for a distinct reshaping and outlet for historical trauma.
However, for us in the United States this film is a chance to reconcile our own military actions. Understanding them from a purely human perspective as opposed to the Americentrism that permeates our interaction and education of the events of WWII.
About 5th Avenue Cinema
Oregon's only student run cinema has been operating non-profit since 1989. Our goals are to provide further education for PSU students interested in film, as well as a fun place for people to see something they wouldn't ordinarily get to see on the big screen. The general public is always invited to attend and there is FREE POPCORN at every show. Our feature films are presented on 35mm film, with the occasional screening on our rare Norelco 16mm projector.