From our sponsors: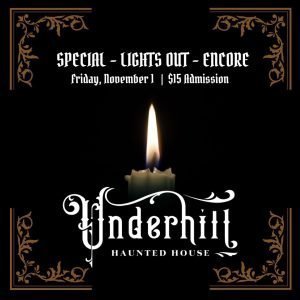 Underhill Haunted House Special Lights Out Encore
November 1, 2019
$15 | 7-10 p.m.
More info: underhillpdx.com/
Veterans Coliseum
300 N Winning Way, Portland, OR 97227
We are doing a special encore performance this Friday…..turning out the lights! See all three haunted attractions in a whole new way…..by flashlight.
Underhill Haunted House at Veterans Coliseum in downtown Portland offers 3 Haunts under One 40,000 square foot roof! Experience Underhill Manor, a classic Victorian Haunted House.
Clown Factory, where clowns are made, but when something goes awry, they just become…evil. If you really hate clowns this Haunt is IT for you!
And, when Government incompetence meets Big Pharma, our most gore-tastic Haunt becomes Infectious. Be careful because you won't want to be infected, too. Experience the Scream in Halloween October 11-31.