We are giving away a pair of tickets to Penny & Sparrow @ Aladdin Theater on November 12. To win, comment on this post why you'd like to attend. Winner will be drawn and emailed November 11.
———————————————
From our sponsors: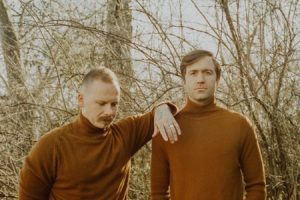 Penny & Sparrow
November 12, 2019
Doors 7 p.m., Show 8 p.m. | $58 VIP, $18 Advance, $22 Doors | All Ages
More info: aladdin-theater.com
Aladdin Theater
3017 SE Milwaukie Ave., Portland, Oregon 97202
There are things that we ought to be afraid of. Things that, rightfully, send cold sweat nightmares. For kids it can be anything from the darkness under a bed, or strangers, or crossing a busy street. For adults it might change face a bit and become things like sickness, job security, or heartbreak. And sometimes, when you point the flashlight right at the thing you're terrified of, you declaw it. You take its mask off and it returns to being an empty, boring closet with nothing inside to harm you. Or maybe the light shows an unexpected beauty in the place of what you thought was horrific. Other times, though, you aim the beam straight into the pitch black and the thing that you prayed wasn't real, the one with all the teeth, is right there smiling at you.
Texas born duo Penny and Sparrow know these things, and on their 2017 release Wendigo they turn the lights off on purpose and hunt for what's really there in the dark. With a musical maturity that has been honed over half a decade and hundreds of live shows, Kyle Jahnke and Andy Baxter are presenting their most sonically diverse & ambitious album yet. Rejoined by Chris Jacobie (producer and engineer of their albums Creature, Tenboom, Struggle Pretty & Christmas Songs) Penny & Sparrow delve into numerous new and eclectic soundscapes throughout Wendigo, without sacrificing the sharp and deep reaching honesty that's accompanied their body of work thus far.
From the quarter kick laden "Salome and Saint Procula", to the pitched-down vibe of "Kin" and all the way to the hypnotically instrumental portion of "There's a lot of us in here", it's obvious that Penny and Sparrow have again expanded their musical palette. Thematically, Baxter's word bank reaches further than on previous albums. From the trilogy of songs humanizing the Grim Reaper ("Visiting" "Smitten" "Moniker") and cascading down to the Urban Legend love song "Wendigo", the intersection of daily grit and supernatural fable is analyzed in depth. On the back half of the record, Jahnke's melodic leadership extends even deeper into beauty and surprise. With seamless transitions marking the tracks from "A Kind of Hunger" to "Let Me Be Crucial", Jahnke arranged a six song musical terrain that is both complex in its varied offerings and impressive in its execution.
Lily & Madeleine
Lily and Madeleine Jurkiewicz create candid music with deep emotional and personal resonance. The sisters, who record under the moniker Lily & Madeleine, boldly explore what it means to be women in the 21st century, and aren't afraid to use their music to call out injustices or double standards. This fearless approach has permeated their three albums, which are full of insightful lyrics and thoughtful indie-pop.
But with their fourth studio album, Canterbury Girls—named after Canterbury Park, located in their hometown of Indianapolis, Indiana—the sisters are coming into their own as women and musicians. "This is the first record Lily and I have ever done where we have full control over all of the songwriting," says Madeleine. "We did co-write with some people that we really love. But everything on this record is completely ours. I feel like I have full ownership over it, and that makes me feel very strong and independent."