From our partners: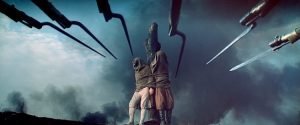 War and Peace (DCP)
November 1-3, 2019
Friday & Saturday 7pm @ 9:30pm
Sunday @ 3pm
Admission is FREE for PSU students & faculty w/ID.
$4 for all other students & seniors.
$5 General Admission
More info: 5thavecinema.com
5th Avenue Cinema
510 SW Hall St., Portland, OR
(503) 725–3551
War and Peace (DCP)
Dir. Sergey Bondarchuk (1966); USSR, 422m
Starring: Lyudmila Saveleva, Vyacheslav Tikhonov, Sergey Bondarchuk
Russian/French with English subtitles
Programmed by: Sam Schrader
Part 1 – FRIDAY, November 1st AT 7:00pm & 9:30PM
Part 2 – SATURDAY, November 2nd AT 7:00pm & 9:30PM
Part 3 & 4 – Sunday, November 3rd AT 3:00PM
The late 20th Century was a time of fierce competition between The United States and its capitalist allies, and The USSR and its Eastern European satellites. Too often are the attempts by the Soviet Union to oppose the cultural dominance of Hollywood during this time forgotten. This Cold War-era cultural opposition culminated in one of the most incredible feats of national cinema ever set to celluloid: Sergei Bondarchuk's 1965-67 adaptation of Leo Tolstoy's War and Peace. This four part epic clocks in at over seven hours long and cost 8.29 million Soviet rubles ($9.2 million) to produce over six years.
At the time of its release, War and Peace was the most expensive film ever made in the Soviet Union. In addition to its economic impact, the historical epic was an incredible achievement in filmmaking. War and Peace was shot on Soviet made 70mm film stock (twice the size of standard 35mm film) which was so poorly manufactured that the filmmakers had to re-shoot more than 10% of the footage, including elaborate battle sequences, which had to be re-shot more than 40 times. The filmmakers pioneered cinematic techniques that had never been attempted before in Soviet cinema, including aerial lifts with cameras attached to create a "cannon ball view," crowds shot with cranes and helicopters, and a camera operator shooting handheld footage on roller skates in order to fluidly film dancers at a ball. It may be long, but rest assured, the monumental Soviet rendition of War and Peace is like nothing you've seen before – or anything you'll ever see again.
About 5th Avenue Cinema
Oregon's only student run cinema has been operating non-profit since 1989. Our goals are to provide further education for PSU students interested in film, as well as a fun place for people to see something they wouldn't ordinarily get to see on the big screen. The general public is always invited to attend and there is FREE POPCORN at every show. Our feature films are presented on 35mm film, with the occasional screening on our rare Norelco 16mm projector.