We are giving away a pair of tickets to Oh Sees, Prettiest Eyes @ Crystal Ballroom on October 4. To win, comment on this post why you'd like to attend. Winner will be drawn and emailed Monday,  September 30.
———————————————
From our sponsors: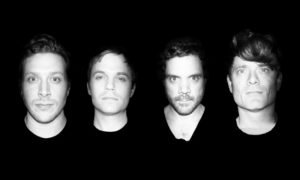 Oh Sees, Prettiest Eyes
October 4, 2019
Doors 6:30p, Show 8 p.m. | $24 ADV, $26 Doors | All Ages
More info: crystalballroompdx.com
Crystal Ballroom
1332 W Burnside St, Portland, OR 97209
Oh Sees are the latest incarnation of songwriter, singer, guitarist (and Castle Face fearless leader) John Dwyer's ever-evolving pop-folk psychedelic group. Dwyer, who hails from Providence, RI, has been active on the San Francisco indie scene since the late '90s, working with several bands, including the Coachwhips, Pink & Brown, Yikes, Up Its Alive, and Swords & Sandals, among others, and he formed OCS (which is an acronym for Orinoka Crash Suite, Orange County Sound, or whatever Dwyer decided it was on any given day) initially as a vehicle for the experimental instrumentals he was producing in his home studio.
In time OCS morphed into an actual band, and worked under the usual flurry of names, most notably as the Oh Sees or the Ohsees, and eventually as Thee Oh Sees, now back to Oh Sees, featuring Dwyer on guitar and vocals, Brigid Dawson on vocals and tambourine, Petey Dammit (sometimes listed as Petey Dammit!) on guitar, and Mike Shoun on drums. Along with a relocation to Los Angeles in 2014 the band has re-spawned a few times into their current incarnation of Tim Hellman on bass, Dan Rincon and Paul Quattrone on drums.
Prettiest Eyes
"Very pleased to be working with Prettiest Eyes. I first saw them ages ago at the Satellite and they were cake-takers that night. Now, they are stronger and weirder than ever. I couldn't believe this new batch of tunes and their bananas- energy live show and, their fans are hard-core heads, just a soup of dance and mouths agog. Brutal, fractured, pogoing beats played by Pachy [Garcia], also the singer, belching out vocal smoke rings in the laser light above the din-they are flat out commands, militaristic in their delivery and yet catchy, like you like em. Marcos, an extro-sensual bass- ist who climbs inside of your mind-clothes while grinding out aggressively greasy throbs and pulls and Paco, the key- boardist, who at times plays reeling wailing lines that could be mistaken for a number of other instruments…and the hair on this dude! I have a hard time remembering how nice his face is offstage, all you can see is a whip wigging out.