From our sponsors: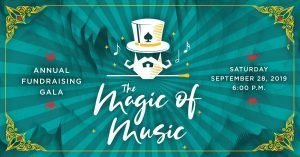 The Magic of Music Annual Fundraising Gala
September 28, 2019
6 p.m. | $125 | All Ages
More info: vancouversymphony.org
Black Pearl on the Columbia
56 S 1st St, Washougal, WA 98671
The Vancouver Symphony Orchestra is pleased to host "The Magic of Music" Annual Fundraising Gala on Saturday, September 28, 2019 at the brand-new Black Pearl on the Columbia in Washougal, Washington. OPB President and CEO Steve Bass will emcee this social event which will be held immediately following the season opening concert which will feature internationally renowned Russian piano virtuoso, Vladimir Feltsman. After leading the orchestra in this extraordinary performance, Maestro Salvador Brotons will join Mr. Felstman as "The Magic of Music" guests of honor.
The Annual Gala is the VSO's primary fundraiser of the season, supporting 14 classical concerts, 8 chamber music concerts, and extensive musical education outreach programs to schools and senior living facilities that the VSO offers throughout the year. This year's event is highlighting the genuine impact and "magic" that classical music bestows on its listeners, from our troubled youth to our elders in memory care that benefit greatly from music therapy. For over 40 years, the VSO has worked diligently to enhance lives throughout SW Washington with our music, education, and community partnerships.
This year's auction items and "Parties of Note" (exclusive dinner parties hosted across many luxuriant locations) will be available for bidding at the event. The Gala's tribute to the magic of music begins with the Black Pearl's stunning floor-to-ceiling windows which offer a breathtaking panoramic view of the Columbia River and Mount Hood. Enjoy the exquisite Pacific Northwest cuisine and seasonal delicacies catered by Beaches Restaurant, award-winning wines by Reininger Winery, live classical music, and the marvels of Tony Magic.
The Black Pearl is located at 56 S 1st St, Washougal, WA 98671. Tickets are $125 and are available at https://vancouversymphony.org/magic/ or by calling the VSO office at 360-735-7278. Sponsorship opportunities are available. Please contact the VSO office for more information.