From our sponsors: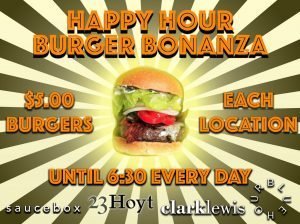 Bruce Carey Restaurants Burger Bonanza
September 2019
Daily During Happy Hour – Open – 6:30p
More info: Facebook
As a follow up to Burger Week, all Bruce Carey Restaurant spaces are having our OWN little Burger Bonanza! Pop in ANY DAY for Happy Hour and enjoy a NEW and DELICIOUS $5 burger from our Chef to you!
Each Bruce Carey Restaurant space has created a STUNNING burger for $5, available during Happy Hour (open-6:30) every day
Spaces include ClarkLewis, 23Hoyt, Bluehour, and Saucebox
We encourage our guests to snap shots and tag us online!
Burgers are not for take-out
BCR Burger Bonanza begins September 12th
'THE KUNG POW BURGER'
Caramelized onions and peppers,tsin tin chili mayo, hoisin bbq sauce
SAUCEBOX – Downtown
214 SW Broadway, near Burnside
'MAPLEWOOD GRILLED BURGER'
Lemon aioli, dijon mustard, market slaw, Havarti cheese, Grand Central bun
CLARKLEWIS – SE Industrial Neighborhood
1001 SE Water Ave. at Taylor
'THE FORK AND KNIFE BURGER'
Local beef, caramelized onions, Mornay cheese sauce, house-pickles, shredded lettuce
23 HOYT – A New American Tavern
529 NW 23rd Ave, at Hoyt
'L'HEURE BLEUE BURGER'
Blue cheese, caramelized onion, aioli, arugula, Grand Central brioche bun
BLUEHOUR – Pearl District
250 NW 13th Ave. at Everett