From our sponsors: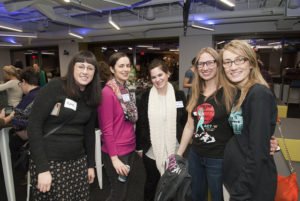 PDX Women In Tech (PDXWIT) September Happy Hour
September 17, 2019
4:30-6:30 p.m. | Free
More info: eventbrite.com
AltSource, Inc.
1120 Southeast Madison Street, Portland, OR 97214
Join us for happy hour at AltSource on September 17th.
In the tech industry, companies often tout all the "fun" benefits they offer to employees, but do those perks really matter to everyone? Yes, ping pong can be entertaining for a few minutes, and kombucha is great for your gut, but are these the types of benefits that make workspaces desirable for everyone? Let's talk about it! This month's theme will be: "Functional workspaces: from behavior to the needs of parents," and to help get the networking flowing we will be using the conversation prompt: What's something you need to make your workspace functional?
While the event is primarily intended for networking, we will have a short segment at 5:30 p.m. to share important announcements and showcase three members of our community.
A representative from our host company AltSource will share what they do and what job opportunities are available at the company
Kristy LaFollette, Healthy Workplace Advocate at Health Equity Partners, will give the following lightning talk: Beyond Beer and Corn Hole: Workplace Change for Families
Torri Wright, Founder and CEO at Wright Behavior, will talk about Decoding The Language of Behavior
During the event, we'll have more to do than free-form networking:
An Activity Table where people can get creative. This is a fantastic way to meet others if large groups are not your thing. If you have trouble finding it, look for Meg Aul, our Event Activities Director.
Table Topics to help break the ice.
A section for job seekers and those hiring, to ensure people get connected.