From our sponsors: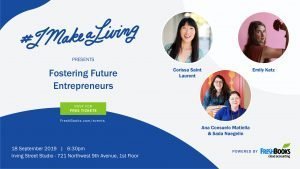 #imakealiving: Fostering Future Entrepreneurs
September 18, 2019
6:30 p.m. | Free | All Ages
More info: eventbrite.ca
Irving St. Studio
721 NW 9th Ave, Portland, OR 97209
Searching for the right tips to take your business to the next level while making meaningful and authentic connections in your community?
Join us for #imakealiving Powered by FreshBooks!
#imakealiving brings together a diverse panel of entrepreneurs, freelancers and small business owners for lively and candid conversations.
Hear how others were able to turn their small business failures into successes and have the opportunity to ask them questions related to your business. After the discussion, the event opens up for networking—a great opportunity to connect with like-minded people.
The theme for this event is: Fostering Future Entrepreneurs
Here are some topics we'll be discussing:
Developing a Business Plan
Funding your business
Digital marketing and marketing strategies
Creating a personal brand
How to find entrepreneur/small business resources
Building a community
Work/life balance
The Perks:
Free Professional Headshots by Fritz Photography
Swag by FreshBooks
Tacos and drinks by Artemis Foods
Plus… demos, gifts, & contests!
The Schedule:
6:30 pm: Doors open, networking, and headshots
7:30 pm: Panel discussion
8:15 pm: Q&A with the audience
8:45 pm: Networking, demos, headshots, drinks