From our sponsors: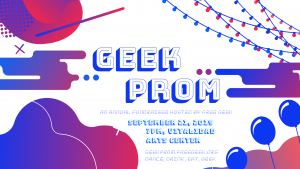 2019 Geek Prom
September 21, 2019
7-10 p.m. | $35 | 21+
Save $5 w/ code PDXPIPELINE at bidr.co/events/geekprom
Vitalidad
116 SE Yamhill St, Portland, OR 97214
Free Geek, a non-profit organization established in 2000, is hosting their inaugural, annual fundraising event and party, Geek Prom.Enthusiasts of their mission– to sustainably reuse technology, enable digital access, and provide education to create a community that empowers people to realize their potential– are invited to attend this inclusive event as their geekiest selves; enjoying food carts, a cash bar, entertainment, a silent auction, social mixer, costume contest, shared stories, an educational gallery about Free Geek's programs and their impact, and other activities. Guests are highly encouraged to attend in costume, or otherwise wear their "geek flag" proudly.
Geek Prom is held in celebration of the culmination of 19 years of volunteerism, education, community engagement, and inclusion of underserved demographics in the Portland Metro Area. The event's aim is to raise funds for continuing necessary digital inclusion programs. Free Geek rescues, then reuses or recycles, over 1,000,000 pounds of e-waste annually– including almost 30% of the materials in Oregon state's "e-cycling" program. As a pillar of digital inclusion, Free Geek teaches over 4,000 hours of basic and intermediate technology education to over 2,000 participants and grants over 1,200 refurbished and supported computers annually to those who may not otherwise have basic digital access– giving them the opportunity to participate fully in school, work, and community life.
"First and foremost, I was passionately drawn to Free Geek's mission," Executive Director, Dan Bartholomew said, "The organization's ability to bridge the digital divide while also helping the environment places it as a leader… Our community is extremely diverse. That diversity leads to innovation; problem solving and answers that we couldn't find without so many fresh perspectives."
Features of Geek Prom 2019 will include:
Costume Contest
Food & Cash Bar
Social Mixer
Music & Other Entertainment
Mission Impact Gallery
Silent Auction
Geek Prom is scheduled to run from 7:00 PM to 10:00 PM on Saturday, September 21st at Vitalidad, with doors opening at 6:30 PM. General Admission is available here and costs $25; VIP tickets start at $100; Sponsorship packages are available. This is a 21+ Only Event.