From our sponsors: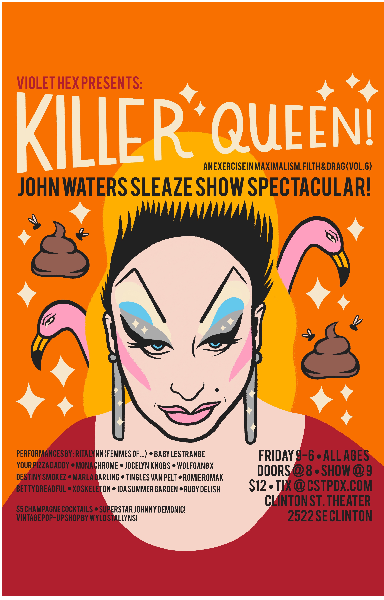 Killer Queen Monthly Variety Drag Show
September 6, 2019
Doors 8 p.m., Show 9 p.m. | $12 | All Ages
More info: cstpdx.com
Clinton Street Theater
2522 SE Clinton St., Portland, OR
KILLER QUEEN is a new monthly variety drag show hosted & produced by Violet Hex at the historic 104 year old CLINTON ST. THEATER! It is my pleasure to showcase an alternating cast of Portland's most talented, eccentric, creative, and one of a kind fabulous queer entertainers!
Killer Queen Volume 6 is a tribute to John Waters with celebration of all of his characters and films! It's the "JOHN WATERS SLEAZE SHOW SPECTACULAR," and I know it will make John Waters so proud!!!
KILLER QUEEN IS:
AN EXERCISE IN MAXIMALISM!
A SPACE FOR ALL THE ART FAGS
SEVERE FASHION & OUTRAGEOUS LOOKS
LARGER THAN LIFE THEATRICS
50% GLAMOUR & 50% TRASH
PROVOCATIVE ECCENTRICITY
OTHERWORLDLY TALENT
A FREAKY FEVER DREAM
OVER THE TOP FABULOSITY
…A NIGHT AT THE THEATER!
$12 / ALL AGES / BAR W/ ID
$5 CHAMPAGNE COCKTAILS
Performances by:
HEADLINER: Rita Lynn (Femmes Of…)
Baby LeStrange
Your Pizza Daddy
Mona Chrome
Jocelyn Knobs
Wolfgang X
Destiny Smokez
Marla Darling
Tingles Van Pelt
Romie Romak
Betty Dreadful
XO Skeleton
Ida Summer Garden
Ruby Delish
& Killer Queen Residents:
ROMIE ROMAK (HOUSE OF HEX)
WOLFGANG X (TACKY WACKY, CULT OF…)
MONA CHROME (UP & COMING SUPERSTAR)
SUPERSTAR DJ JOHNNY DEMONIC!
CHAMPAGNE STARTENDER BARBIE FERRARI!