From our partners: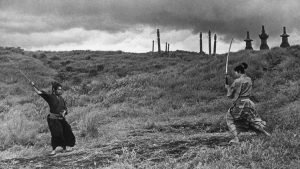 Harakiri (35mm)
September 6-8, 2019
Friday & Saturday 7pm @ 9:30pm
Sunday @ 3pm
Admission is FREE for PSU students & faculty w/ID.
$4 for all other students & seniors.
$5 General Admission
More info: 5thavecinema.com
5th Avenue Cinema
510 SW Hall St., Portland, OR
(503) 725–3551
Harakiri (35mm)
Dir. Masaki Kobayashi (1962); Japan, 133m
Starring: Tatsuya Nakadai, Akira Ishihama, Shima Iwashita
Japanese with English subtitles
Programmed by: Jenny Wechter
Set in the year 1630, Harakiri begins with rōnin (masterless samurai) Hanshiro Tsugumo making an unusual request of a local lord of the Iyi clan: to use the lord's grounds to commit harakiri- ritual suicide. Director Masaki Kobayashi challenges the feudal customs of Japan's past in a gripping critique of historical perceptions of honor.
About 5th Avenue Cinema
Oregon's only student run cinema has been operating non-profit since 1989. Our goals are to provide further education for PSU students interested in film, as well as a fun place for people to see something they wouldn't ordinarily get to see on the big screen. The general public is always invited to attend and there is FREE POPCORN at every show. Our feature films are presented on 35mm film, with the occasional screening on our rare Norelco 16mm projector.