From our sponsors: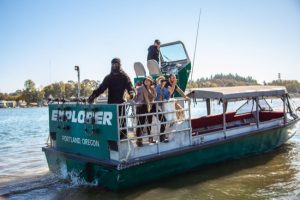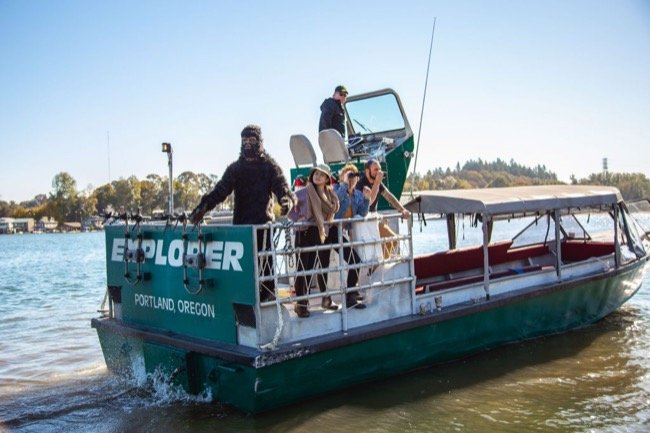 Portland Spirit Bigfoot Adventure Cruise
June 15-September 30, 2019
Full trip: 9am – 4pm | All Ages
Quick Trip: 9am – 12:30pm | All Ages
From $43 per person for quick trip, $98 per person for full trip; Group pricing from $78 (15 or more people)
Save $25 on Full Trip w/ code BIGFOOT at bigfootcruise.com
Salmon Street Springs Dock
1000 SW Naito Pkwy
Ride the Explorer jet-boat from Portland to Cascade Locks as we embark into the "Heart of the Columbia Gorge" to search for the elusive creature known as Bigfoot. See the landmarks that make the Northwest famous, while listening to live and recorded narration. Enjoy content created by Animal Planet's Finding Bigfoot star, Cliff Barackman. Portland Spirit now offers a shorter 3.5 hour Bigfoot tour for those on a tight timeline!
Highlights
See all the landmarks that make the Northwest famous

Listen to narration from Cliff Barackman about Bigfoot
Enjoy live narration from Portland to The Columbia Gorge
Embark on a 140 mile round trip jet-boat experience
Enjoy an hour stop in Cascade Locks for a scenic lunch break
Bigfoot is the hide-and-seek champion of the world. With the help of the star of Cliff Barackman, Animal Planet's Finding Bigfoot, we will try our best to find him. Travel from Portland to the Heart of the Columbia Gorge on this seven-hour round trip excursion. See sights such as Beacon Rock, Bridge of the Gods, Multnomah Falls, Bonneville and Dam, and many more.
We are the only riverboat company that offers daily trips through the Bonneville Locks. Experience being raised as much as 70 feet from the lower Columbia River. We will explore the history and lore of Bigfoot and his presence in the Pacific Northwest. Learn about known sightings along the river June – September and get the inside scoop on this mysterious creature's habits. This cruise includes a tour guide to point out the sights and detailed explanation of what you are seeing. There will also be a recorded narration by Cliff Barackman, discussing sightings and the history of Bigfoot. This is a covered jet-boat, dress for the weather, you will not get rained on as it is covered. Please be prepared with a sweatshirt or jacket, as it can be cooler in the morning. This is all day trip includes a one-hour stop in Cascade Locks, where you can enjoy a scenic lunch on the waterfront at The Locks Grill. Locks Grill Menu This cruise is not wheelchair accessible.
What You Will See on Full Tour:
Total Duration: 7 hours
Hawthorne Bridge, Portland, Oregon
Morrison Bridge, Portland, Oregon
Burnside Bridge, Portland, Oregon
Steel Bridge, Portland, Oregon
Broadway Bridge, Portland, Oregon
Fremont Bridge, Portland, Oregon
St. Johns Bridge, Portland, Oregon
Kelley Point Park, Portland, Oregon
Jantzen Beach Super Center, Portland
Interstate Bridge, Vancouver, Washington
Rooster Rock State Park, Corbett, Oregon
Vista House, Corbett, Oregon
Multnomah Falls, Bridal Veil, Oregon
Beacon Rock State Park, North Bonneville, Washington
Bonneville Lock & Dam, Cascade Locks, Oregon
Bridge of the Gods, Cascade Locks, Oregon
Locks Waterfront Grill
Many More…
What You Will See on Quick Tour:
Total Duration: 3.5 hours
Hawthorne Bridge, Portland, Oregon
Morrison Bridge, Portland, Oregon
Burnside Bridge, Portland, Oregon
Steel Bridge, Portland, Oregon
Broadway Bridge, Portland, Oregon
Fremont Bridge, Portland, Oregon
St. Johns Bridge, Portland, Oregon
Kelley Point Park, Portland, Oregon
Jantzen Beach Super Center, Portland
Interstate Bridge, Vancouver, Washington
Rooster Rock State Park, Corbett, Oregon
Vista House, Corbett, Oregon
Multnomah Falls, Bridal Veil, Oregon
Beacon Rock State Park, North Bonneville, Washington
Many More…