From Our Sponsors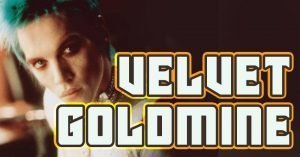 Velvet Goldmine 
August 23, 2019
All Ages | 9:30pm | $8, $5-$10 sliding scale
More info: cstpdx.com
Clinton Street Theater
2522 SE Clinton St.
Projekt Records' Sam Rosenthal presents his MOVIES IN THE DARK film series at the cozy inner-SE independent arthouse, The Clinton Street Theater.
Join 200 film fans for Todd Haynes's 1998 VELVET GOLDMINE.
Set in the 1970s, it's the story of the life, death and resurrection of a glam-rock idol named Brian Slade, played by Jonathan Rhys-Meyers and inspired by David Bowie. After headlining a brief but dazzling era of glitter rock, he fakes his own death onstage. When the hoax is revealed, his cocaine use increases, his sales plummet, and he disappears from view. A decade later, in the fraught year of 1984, a journalist (Christian Bale) is assigned to find out what really happened to Slade.
Starring:
Ewan McGregor
Jonathan Rhys Meyers
Toni Collette
Christian Bale