From Our Sponsors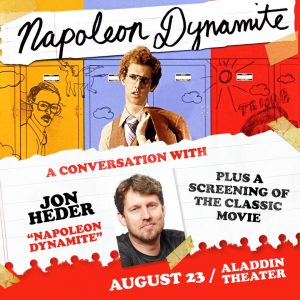 Napoleon Dynamite Live!
August 23, 2019
All Ages | $25 – $95
5:30 – 7:30 pm Selfies w/ No Drama Llama
6:30pm Doors
7:30pm Show
More info: qurb.me/napoleandynamite
Grab your puffy sleeves and 90's sport coat and join film star JON HEDER as he talks about the beloved indie classic Napoleon Dynamite. The cult classic film hit theaters 15 years ago and since then much has changed; but the characters, as enduring as they are endearing, stay in our hearts.
Appealing to the inner-teenager in each of us, the story, and more importantly the dialogue, makes "Napoleon Dynamite" one of the most quoted movies of our time. Napoleon Dynamite makes us laugh – and laugh hard – over and over again.
This unique evening presented by Qurb Live includes a full screening of Napoleon Dynamite followed by a lively, freewheeling, moderated discussion with fan-favorite cast member; Jon Heder.
SELFIES WITH TINA – aka Caesar the No Drama Llama! Grab a hug and snag a selfie with Caesar beginning at 5:30PM outside the Theater.
LIMITED VIP MEET & GREET tickets include premium seating and a meet & greet / photo opportunity with Jon Heder.
Feed your llama, brush up on your best Napoleon dance moves, and buy your tickets for August 23rd at The Aladdin Theater before they are gone.
Selfies with Tina (Caesar the No Drama Llama) – 5:30PM-7:30PM
Doors @ 6:30PM – Show @ 7:30PM
Limited Meet & Greet tickets available.
Meet & Greet @ 6PM