From our partners: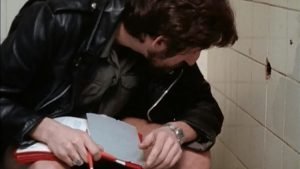 Taxi Zum Klo (35mm)
August 16-18, 2019
Friday & Saturday @ 7 pm & 9:30pm
Sunday @ 3 pm
Admission is FREE for PSU students & faculty w/ID.
$4 for all other students & seniors.
$5 General Admission
More info: 5thavecinema.com
5th Avenue Cinema
510 SW Hall St., Portland, OR
(503) 725–3551
Taxi Zum Klo (35mm)
Dir. Frank Ripploh (1981); West Germany, 98m
Starring: Frank Ripploh, Bernd Broaderup, Orpha Termin
German with English subtitles
Programmed by: Zeami Eccles-Irwin
Taxi Zum Klo is a comedy of manners that tells the story of Frank Ripploh, a Berlin school teacher with a very active sex life. Frank tries to keep his professional and private life separate, but when he begins a new relationship his love of hookups places his teaching career and his romantic life at stake. Taxi Zum Klo was considered groundbreaking at the time for its frank depiction of homosexuality and is today celebrated for its in-depth look at early 80s gay culture in West Germany. A semi-autobiographical work written, directed, and starring Frank Ripploh, Taxi Zum Klo humorously portrays the contradictions of closeted life in a film that well deserves its legendary cult status.
About 5th Avenue Cinema
Oregon's only student run cinema has been operating non-profit since 1989. Our goals are to provide further education for PSU students interested in film, as well as a fun place for people to see something they wouldn't ordinarily get to see on the big screen. The general public is always invited to attend and there is FREE POPCORN at every show. Our feature films are presented on 35mm film, with the occasional screening on our rare Norelco 16mm projector.