From our sponsors: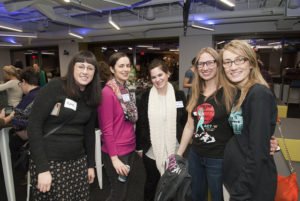 PDXWIT Presents: August Happy Hour Networking Event
August 20, 2019
4:30-6:30 p.m. | Free | All Ages
More Info: eventbrite.com
Zapproved
1414 NW Northrup St #700, Portland, OR 97209
Calling all introverts!
We all know the tech industry is full of networking events, but networking can be daunting, especially for introverts. The theme of our August Happy Hour is "Calling All Introverts!" To get people talking about this, our conversation prompt for the event will be "How does being an introvert or extrovert affect networking for you?"
While the event is primarily intended for networking, we will have a short segment at 5:30 p.m. to share important announcements and showcase three members of our community.
A representative from our host company Zapproved will share what they do and what job opportunities are available at the company
Tula Sabes, Lab Support Technician at Intel, will talk about Inclusion and Being a Young Introvert
Emma Holland, Program Manager at Thinkful, will talk about Networking for Introverts
During the event, we'll have more to do than free-form networking:
An Activity Table where people can get creative. This is a fantastic way to meet others if large groups are not your thing. If you have trouble finding it, look for Meg Aul, our Event Activities Director.
Table Topics to help break the ice.
A section for job seekers and those hiring, to ensure people get connected.