From our sponsors: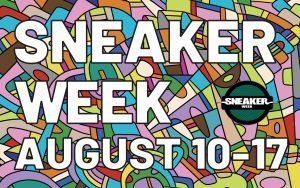 Sneaker Week PDX
August 10-17, 2019
More info: sneakerweekpdx.com
The third annual Sneaker Week Portland, a weeklong celebration of sneaker culture that brings together sneaker enthusiasts, industry influencers, and aspiring creative professionals from across the nation, will take place August 10-17 at various venues throughout the city, according to Sneaker Week cofounder Herbert Beauclere.
"Working with a core group of directors, this year we were able to program a series of events that help drive our mission of highlighting the diverse culture and community amongst global sneaker enthusiasts and the evolving landscape of Portland's footwear industry and popular culture," Beauclere said. "For 2019, Sneaker Week continues to combine Portland's unique footwear industry with its influential community to showcase the 2019 theme, 'Stronger Together.' We will be elevating the individuals, brands and partners who make this event possible through collaborative and impactful experiences."
As with past Sneaker Weeks, show organizers want to continue to educate and connect likeminded sneakerheads and enthusiasts through the core creative roots of the culture. The goal is to provide a space for the next great wave of creatives to see the city for the opportunities it provides.
2019 Sneaker Week will highlights include:
SATURDAY, AUGUST 10
AFRICAN AMERICAN FOOTWEAR FORUM @ The Portland Art Museum
The AAFF enhances access, education, and awareness for African Americans who are seeking opportunities to influence, lead, and impact the global footwear industry and consumer culture.
SUNDAY, AUGUST 11
OLD TOWN CLASSIC @ The Goldsmith Blocks
Sneaker Week will be taking over downtown Portland to create an outdoor retail sports experience. Come witness as your favorite boutiques battle it out to provide awesome prizes and promotions for the crowd.
Sneaker Week Kick-Off @ Multiple Locations
Join us in celebrating our third year of Sneaker Week. 'Stronger Together' is our mission for 2019. We will be highlighting the amazing people, brands, and communities with elevated experiences that showcases Portland's unique footwear community.
Live entertainment, footwear inspired activities, and family friendly vibe
I$$A album listening party/ Happy hour take over @ the Hoxton Hotel
In celebration of Sneaker Week, come check out Senagalese musical artist I$$A's new shoe line for the first time over drinks and rad sounds for a Happy Hour Takeover in La Neta. Drinks curated by us, tunes curated by I$$A, vibe curated by you!
Sneaker Week presents a special advanced listening of Senegalese artist I$$A's upcoming album, Kiss From A Rose. Join us in The Apartment for a sneak peek and learn about the inspiration behind his music and his custom shoe line.
MONDAY, AUGUST 12
BLAZERS SHOECASE @ The Veterans' Memorial Coliseum
In partnership with the Blazers, Sneaker Week will host an exclusive "court unveiling" featuring the NBA team's new 50th-anniversary design.
WEDNESDAY, AUGUST 14
PITCH BLACK @ Wieden + Kennedy
Community innovator and "Blatino" entrepreneur Stephen Green hosts the first ever "Shark Tank-style" entrepreneur contest for sneakers and fashion startups.
THURSDAY, AUGUST 15
TECH TALK @ Wacom
Sneaker Week's second annual Tech Talk, featuring the latest technology in footwear design. Join industry leaders as they cover topics from education, to design, and the most in-demand job opportunities in footwear.
SATURDAY, AUGUST 17
SNEAKER FASHION SHOW @ The Sentinel Hotel (Win Tickets HERE)

The iconic Sentinel Hotel will be transformed into a multicultural exchange of fashion and footwear. Come experience this upscale night featuring the hottest streetwear and sneaker brands. Tickets are now available!
Designed to empower the culture and its youth, Sneaker Week Portland is meant to connect the multibillion-dollar footwear industry with the community and culture that created it.
See SneakerWeekPDX.com for more information on partnerships, special guest appearances, events and more.
About Sneaker Week Portland
Portland is the hub for the global sneaker industry, and Sneaker Week is here to highlight the people who make this city thrive! Sneaker Week Portland has been made possible by the support and contributions of Portland businesses and partnerships within the global sneaker culture. Proceeds from these events and partnerships will go toward supporting local charities and non-profits.