From our sponsors: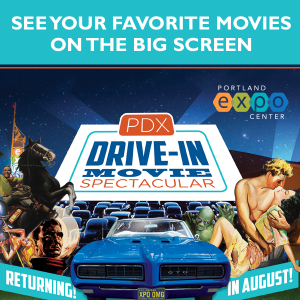 PDX Drive In Movie Spectacular
August 14-18, 2019
All Ages | Movie Starts – 8:30pm (or when dark enough)
Carload $18 | Individual $5 (Walk, bike, etc.)
More info: expomovies.com
Portland Expo Center
2060 North Marine Drive, Portland, Oregon 97217
For the past 4 summers, hundreds drive-in movie fans have loved the Expo Center's PDX Drive-In Movie Spectacular – and we are back with another round this August! If you grew up going to drive-in movies, you know what a treat it is to travel with your family, friends or date to see a movie in your car. Join us for the – The PDX Drive-In Movie Spectacular! – will have all the food, music and fun with a modern twist. The PDX Drive-In Movie Spectacular is presented by the Portland Tribune and iHeart Radio. The summer movie series is slated for: August 14, 15, 16, 17, and 18th. To see the complete of movie times, bands, food selection – see www.ExpoMovies.com
This year, the PDX Drive-In Movie Spectacular! will be offering up Star Wars Episode IV: A New Hope, The Original Planet of the Apes, Alien, Little Shop of Horrors and Purple Rain! We will be having contests, a goodie bag for the first 100 cars each night courtesy of TicketsWest, prizes, a fantastic record swap courtesy of Music Millennium, games courtesy of Guardian Games, trivia and more, plus live music on the Columbia Credit Union Stage each night! Our beneficiary this year is Movie Madness and the Hollywood Theater!
• Gates open at 6:30 pm [be the first to the Toyota of Portland front row]
• Band/food/music/games – 7:00pm to 8:00pm
• Cartoons/shorts/activities – 8:15pm to 8:30pm
• Movie Starts – 8:40pm (or when dark enough)
Unlike those grainy, hard to watch, hard to hear drive-ins of days gone by, the movies for The PDX Drive- In Movie Spectacular! is projected in HD digital for great resolution and color. Or come up front to the grass area and watch from the Deschutes Brewery beer garden, set up a chair or sit at one of our park benches! Additionally, those taking MAX (Yellow Line to the Expo), or biking, throw down a blanket on the grass or low back lawn chairs on the Maryhill Winery lawn area – plus, we have a fantastic outdoor sound system too.
The pricing for the drive-in even reflects the golden age of drive-in theaters – $18 for the car – so load up the whole family (up to 6 people)! Those taking MAX or their bike the entry fee is only $5. Each night there will be a different band on the main stage including: The Portland Brass Quintet, The Reverberations, El Gringo Mariachi, Boka Marimba, and Erotic City. Plus there will be short films, cartoons and more –and Portland Roasting will have great coffee selections too! You can also pre-buy your tickets to The PDX Drive-In Movie Spectacular! at www.ExpoMovies.com