From our sponsors: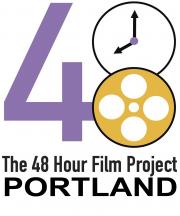 48 Hour Film Project Showcase 2019
August 9-10, 2019
Friday 8 p.m. & 10 p.m.
Saturday: 6 p.m. 8 p.m.
All Ages | $10
More info: cstpdx.com
Clinton Street Theater
2522 SE Clinton Street, Portland, OR 97202
The Portland 48 Hour Film Project is bringing its legendary creativity and chaos to the legendary Clinton St. Theater on August 9 and 10. You won't want to miss this party!
This year's event features four big screenings with different films in each block. Each screening will feature a dozen short films, all created between August 2-4 -and will include such genres as COMEDY, HORROR, THRILLER, FISH OUT OF WATER…and more!
You, the audience, will choose the Audience Fave for each screening, and the films will also go onto a panel of judges. The winners will be announced at the Best of the PDX48 Screening & Awards Ceremony in September, and "Portland's Best Film" will compete against other cities from around the world for the year's best film.
We all know that the PDX48HFP is as much about community as it is about competition, and everyone who makes a film or comes out and supports our filmmakers are the real winners.
So come join the party, support your local filmmaking community, and help us create magic. You'll be thrilled and amazed by what Portland's most daring and creative filmmakers can pull off in a mere 48 hours!!