From our sponsors: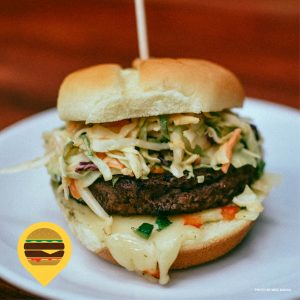 Portland Burger Week: EB Mahalo Burger
August 5-10, 2019
10 am-10 pm | $5
More info: portlandmercury.com
(Photo by Meg Nanna)
The Eastburn Public House
1800 E. Burnside St, Portland, OR 97214
The 2019 Portland Burger week is August 5-10 and features more than 60 locations serving up $5 burgers! Stop by EastBurn for the Mahalo Burger! It's like being on an island beach in Portland; the best of two worlds.
Ingredients: 1/3lb Northwest Grass Feed Beef, Pepper Jack Cheese, Aloha Pineapple Slaw served on a fresh Franz Hawaiian Bun.
Description: A 1/3 pound Northwest grass fed beef burger, making the drop on a slice of pepper jack cheese, barreled with a heaping scoop of our house-made sweet and spicy pineapple slaw decked on a local Franz Hawaiian bun. A surfer's favorite in any location. Epic when paired with a brew and our hand- cut russet fries!