We are giving away a pair of tickets to The Alarm // Modern English // Jay Aston's Gene Loves Jezebel @ Aladdin Theater on August 5. To win, comment on this post why you'd like to attend. Winner will be drawn and emailed Friday, August 2.
———————————————
From our sponsors: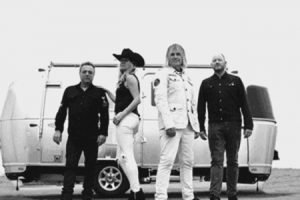 The Alarm // Modern English // Jay Aston's Gene Loves Jezebel
August 5, 2019
All Ages | Doors 7 p.m., Show 8 p.m. | $39.50 ADV, $42 Doors
More info: aladdin-theater.com
Aladdin Theater
3017 SE Milwaukie Ave, Portland, OR 97202
The Alarm
Before assembling material for The Alarm's first album of new music in eight years, Mike Peters paused to take stock. To move forwards, he first had to look back and acknowledge the back-story of a group whose songs of defiance have traditionally been fuelled by an almost umbilical bond between band and audience. In the aftermath of 2010's Direct Action album, Mike Peters embarked on an ambitious renovation program that commemorated a string of Alarm 30th anniversaries by revisiting some of the band's landmark releases from the Eighties, a decade that saw a plucky band of young Welsh guitar-slingers break straight outta Rhyl, with plenty of street fighting spirit and an implacable belief in the communal power of music. Mike and the group began by re-working some of their earliest songs on 2011's The Sound And The Fury before re-imagining a brace of their mid-Eighties albums, Declaration and Strength, by re-recording them in full, and taking the new versions out on the road with a marathon world tour.
"I wanted to address our artistic history,' says singer, guitarist and songwriter Mike Peters. "There wasn't a massive need for new music purely for the sake of it around that time, because we have an audience who are very attached to our history. I also wanted to go back to the start and re-evaluate everything. I had songs that had followed me around for all of my adult life, and I wanted to remake them as if they had been written today. The meanings of some lines change as you go through life, and I wanted to reflect that. I knew it would divide opinion, but I felt it would open doors, too. I wanted to shake up our audience and myself, so I re-wrote some of the original lines and re-introduced verses I had edited out. It had quite an effect on me: the past started to inform how I was writing my new songs and I was able to carry that spirit forward into something new.'
Modern English
Modern English are an English rock band best remembered for their songs "I Melt with You," "Hands Across the Sea," and "Ink and Paper". The group disbanded for a period in 1991, but later recorded in 1995 with some new members. The original members reformed in 2009 and are currently touring with plans for a new release in 2016!
Formed in Colchester, Essex, England, in 1979 by Robbie Grey (vocals), Gary McDowell (guitar, vocals), and Michael Conroy (bass, vocals), Modern English were originally known as The Lepers. The group expanded to "Modern English" when Richard Brown (drums) and Stephen Walker (keyboards) were subsequently added to the line-up of the band.
Jay Aston's Gene Loves Jezebel
For a band to stay relevant across decades is unusual — but to do so with much of the same line-up for most of that time is exceptional. Such is the case with Gene Loves Jezebel, which indicates that these musicians come together not only out of an appreciation for the memorable music they create, but also because they truly like and respect each other. Jay Aston (vocals), James Stevenson (guitars), Pete Rizzo (bass) and Chris Bell (drums) — with Peter Walsh producing — have created extraordinary GLJ songs for 30 years now. With their new album, they honour that legacy by expanding it.
When the group announced a crowdfunding drive for their first album of new material in 14 years, fan response was swift and overwhelming, with donations far exceeding the initial goal. It is impressive, given the length of time since the last GLJ release from these gentlemen, that this outfit still generates this much interest. The band rewarded fans' loyalty and trust with an intimate look inside the writing and recording process, with members posting frequent social media updates from the studio. Fans loved hearing about the joy and intensity that generate GLJ songs, and in turn, their outpouring of enthusiasm seemed to spur the group to greater levels of creativity. This give-and-take revealed the depth of mutual respect and gratitude between the band and its fans.