We are giving away a pair of tickets to Portland Business Journal August Power Breakfast @ Sentinel on August 29. To win, comment on this post why you'd like to attend. Winner will be drawn and emailed Tuesday, August 27 .
———————————————
From our sponsors: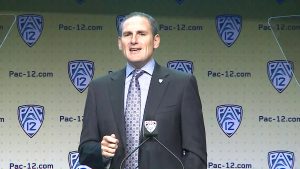 Portland Business Journal August Power Breakfast
August 29, 2019
7:30-9a-| $50 | All Ages
More info: bizjournals.com
Sentinel Hotel
614 SW 11th Ave, Portland, OR 97205
Throughout his career Larry Scott has been a game changer: a bold, innovative leader with a vision for transformative change – from expansion and revitalization of the Pac-12 to equal prize money at Wimbledon and much more. Hear from him in August!
Scott succeeded Tom Hansen as the sixth Commissioner of what was then the Pac-10 Conference on July 1, 2009. Before that, he served for six years as Chairman and Chief Executive Officer of the Sony Ericsson Women's Tennis Association (WTA) Tour, where he helped generate unprecedented growth and popularity for women's professional tennis on a global scale.
In his nine years as Pac-12 Commissioner, Scott has orchestrated a re-branding of the conference, with messages of innovation, excellence, and the advantages of a West Coast location at its core. Scott also led the conference through an expansion for the first time since 1978 by successfully adding Colorado and Utah.
Scott has also led a transformation of the conference's media posture by delivering much-needed revenue, dramatically increasing exposure for women's and Olympic sports, establishing ever-evolving digital and mobile platforms for Pac-12 content, and creating training and employment opportunities for thousands of Pac-12 students interested in launching media careers. Scott's vision for the conference also reaches beyond geographic borders. In 2011, the Pac-12 launched Pac-12 Global, an initiative that aims to expand the conference's and its members' footprint around the world. Since its advent, Pac-12 Global has been the catalyst for several international athletic events and student-athlete cultural exchange programs, all while spreading Pac-12 universities' brands to new audiences.
At the WTA Tour, Scott worked with Billie Jean King and others to achieve the long-sought goal of equal prize money for women in tennis' grand slam events. He also became the architect of the largest-ever sponsorship in both women's sports and professional tennis, a six-year $88-million title sponsorship agreement with Sony Ericsson. His many other WTA achievements include the largest television deal in women's tennis history, a reform package that led to a 40 percent increase in prize money, and $750 million in facilities investments.
Scott serves on several boards inside and outside of intercollegiate athletics, including those of the National Football Foundation, the 150th Anniversary of College Football, College Football Playoff LLC Management Committee, the Rose Bowl Management Committee, and the Women's Sports Foundation.