From our sponsors: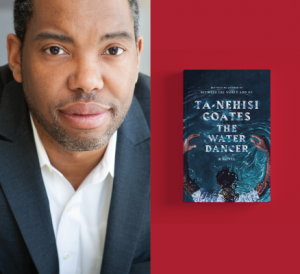 Ta-Nehisi Coates in Conversation
October 21, 2019
Doors 6:30 p.m., Show 7:30 p.m. | $15 – $85 | All Ages
More info: portland5.com
Arlene Schnitzer Concert Hall
1037 SW Broadway, Portland, OR 97205
Literary Arts is proud to present an evening with acclaimed author and journalist Ta-Nehisi Coates in celebration of his latest book, The Water Dancer (coming September 24). Coates will be in conversation with bestselling author Renée Watson.
In this boldly imagined work of magic and adventure, Coates offers a bracingly original vision of the world of slavery. Driven by the author's bold imagination and striking ability to bring readers deep into the interior lives of his brilliantly rendered characters, The Water Dancer is the story of America's oldest struggle—the struggle to tell the truth—from one of our most exciting thinkers and beautiful writers.
About the author: Ta-Nehisi Coates is a distinguished writer in residence at NYU's Arthur L. Carter Journalism Institute. He is the author of the best-selling books The Beautiful Struggle, We Were Eight Years in Power, and Between The World And Me, which won the National Book Award in 2015. Coates is a recipient of a MacArthur Fellowship. He is also the current author of the Marvel comics The Black Panther and Captain America.
About The Water Dancer: Young Hiram Walker was born into bondage. When his mother was sold away, Hiram was robbed of all memory of her—but was gifted with a mysterious power. Years later, when Hiram almost drowns in a river, that same power saves his life. This brush with death births an urgency in Hiram and a daring scheme: to escape from the only home he's ever known.
So begins an unexpected journey that takes Hiram from the corrupt grandeur of Virginia's proud plantations to desperate guerrilla cells in the wilderness, from the coffin of the deep South to dangerously utopic movements in the North. Even as he's enlisted in the underground war between slavers and the enslaved, Hiram's resolve to rescue the family he left behind endures.
Special thanks to our event sponsor Angeli Law Firm LLC and our community partners APANO, Coalition for Communities of Color, KairosPDX, Partners in Diversity, Portland State University's Office of Global Diversity & Inclusion, and Self Enhancement, Inc.
$65 & $85 tickets include the new Coates book at your seat.