From our sponsors: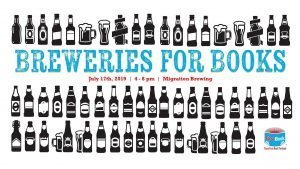 Breweries for Books: A Triviology Fundraiser for FirstBook!
July 17, 2019
4-8p (trivia at 6:30p) | $5 per person to play; 50% cash pot for the winning team!
More info: firstbookportland.org | Facebook
Migration Brewing
Glisan, 2828 NE Glisan
An event for all ages, with fun for children, families, and adults.
Free entry!
$5 for Trivia (with 50% of cash for the winning team)
50/50 Raffle ($1 for 1 ticket; $5 for 6 tickets; $10 for 15 tickets)
4:30 – 6:00pm—Meet local children's authors Brian W. Parker and Josie A. Parker. They'll be leading craft activities for children and selling and signing copies of their books, including The Pawsons Move In, Obi The Changeling, and Darren Strider: Bumblebee Rider.
6:30 – 7:30pm—Trivia hosted by ShanRock's Triviology
7:45pm—Raffle winner announced (raffle ongoing throughout the night)
Remember, children are welcome at Migration until 8pm. A portion of proceeds during the event will be donated to us, so come hungry and thirsty.