From our partners: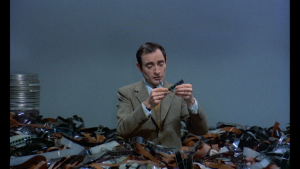 Land of Milk and Honey (35mm)
July 12-14, 2019
Friday & Saturday @ 7 pm & 9:30pm
Sunday @ 3 pm
Admission is FREE for PSU students & faculty w/ID.
$4 for all other students & seniors.
$5 General Admission
More info: 5thavecinema.com
5th Avenue Cinema
510 SW Hall St., Portland, OR
(503) 725–3551
Land of Milk and Honey (35mm)
Dir. Pierre Étaix (1971); France, 80m
Starring: Pierre Étaix, Maurice Biraud, Michel Lewin
French with English subtitles
Programmed by: Amy Epperson
A study of life, a kaleidoscopic spectacle of a kind of anthological exploration into the post-May 1968 years of France. A satirical documentation of French consumerist culture, open dialogue with everyday people, and a sincere look into the desires and fears of folk. A circus-like performance of a sociological tour de force that effectively ended Étaix's filmmaking career.
Land of Milk and Honey (Pierre Étaix, 1971) — Editing from Film Comment on Vimeo.
About 5th Avenue Cinema
Oregon's only student run cinema has been operating non-profit since 1989. Our goals are to provide further education for PSU students interested in film, as well as a fun place for people to see something they wouldn't ordinarily get to see on the big screen. The general public is always invited to attend and there is FREE POPCORN at every show. Our feature films are presented on 35mm film, with the occasional screening on our rare Norelco 16mm projector.