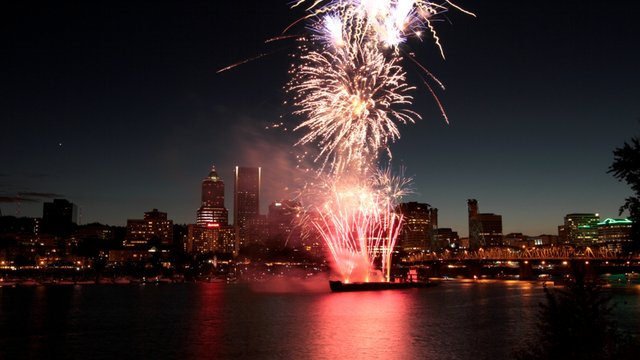 America celebrates Independence Day Thursday! As always, we have a large list of Portland July 4th weekend events including parties, dinners, shows, etc. This year, July 4th falls on Thursday, so there will be parties all weekend!
———————————————
Portland-Metro July 4th Weekend Events & Info:
———————————–
July 4th is Saturday and there will be many places in Portland and Oregon to watch fireworks + Vancouver, Washington. There are parades, live music, and many more activities all over our state and city.
Portland / Oregon July 4th Fireworks Celebrations:
—————————————-

Portland Fireworks Pictures & Watch Suggestions:

Portland Waterfront 4th of July fireworks show. Photo by pdxbiker

Portland Waterfront Fireworks
Photo by pdxbiker

Photo by Hamza Hydri
——————————–
Here are some suggestions of good spots to watch July 4th Fireworks:
Hawthorne Bridge
Inner SE Morrison
Mount Tabor
Rose Test Gardens
Top of PSU parking garage on 6th and Harrison
Portland City Grille
NE Marine Drive docks
Sellwood Park (website) you can see both Oaks Park and downtown from here
West Hills: Terwilliger near OHSU has many spots.
————————–