From our sponsors: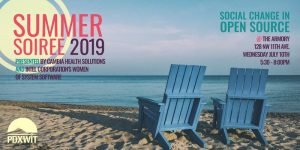 PDXWIT presents: Summer Soiree
July 10, 2019
5:30-8 p.m. | FREE
More info: eventbrite.com
Portland Center Stage at The Armory
128 NW Eleventh Avenue, Portland, OR
Join us for our annual Summer Soiree at The Armory, brought to you by Intel and Cambia Health Solutions.
The theme for this year's Summer Soiree is Social Change in Open Source. It is difficult to break into open source for two key reasons. One, it is community driven technology and many people do not have the time or capacity to do the unpaid work that is often required to get involved. Two, even if you do have the time to contribute, it can be very difficult and even toxic if you are a woman or minority due to harassment by leaders in that space. These barriers, along with so many others that underrepresented folks are facing, make it difficult to have the experience required to obtain sought-after jobs at companies doing open source work.
To support this discussion, our conversation starter for the evening is "how can open source be more accessible to underrepresented communities?"
The Summer Soiree will feature a panel discussion followed by networking.
During the event, we'll have an Activity Table where people can get creative. This is a fantastic way to meet others if large groups are not your thing. If you have trouble finding it, look for Meg Aul, our Event Activities Director.