From our sponsors: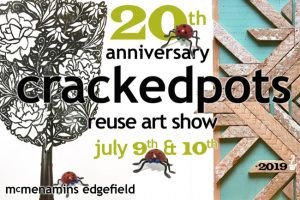 2019 Crackedpots Reuse Art Show
July 9-10, 2019
All Ages | FREE
Tuesday 10a-8 p.m. | Wednesday 10a-7 p.m.
More info: crackedpots.org
McMenamins Edgefield
2126 S.W. Halsey St, Troutdale, Oregon
Crackedpots, an environmental art non-profit dedicated to waste reduction, will celebrate 20 years of reuse, reclaimed and upcycled creations at its annual art show. More than 90 local and regional artists will display and sell art — including indoor, outdoor and wearable items — made from reused and reclaimed materials.
The free two-day event takes place from 10 a.m. to 8 p.m. on Tuesday, July 9, and 10 a.m. to 7 p.m. on Wednesday, July 10, at McMenamins Edgefield in Troutdale., McMenamins Edgefield will also host its annual garden plant sale from noon to 5:00 p.m. on both days.
Art at this reuse show is handmade from at least 80% recycled materials. Materials evolve from a past life into a totally new use. Each piece of art has a story tag which explains its evolution. At the 2018 show, over 20 tons of reusable materials were repurposed by artists and saved from the landfill.
"Imaginations run wild at this show, and the art displayed throughout the gardens is an inspiration to everyone who attends. It's a great way to spend a day with friends — drinking a beer or a glass of wine while strolling through the gardens and looking at art, all while exciting your own creativity." – Jane Comerford crackedpots board director.
McMenamins Cosmic Trippers can collect a crackedpots 20th Anniversary Reuse Art Show commemorative stamp for their passports during the two-day event.
For over 20 years, crackedpots has been honoring the educational power and expertise of artists who promote waste reduction though creativity. Reuse is at the heart of all crackedpots does – encouraging the community to creatively look at trash.